Cheryl Burke wins Richmond School Board seat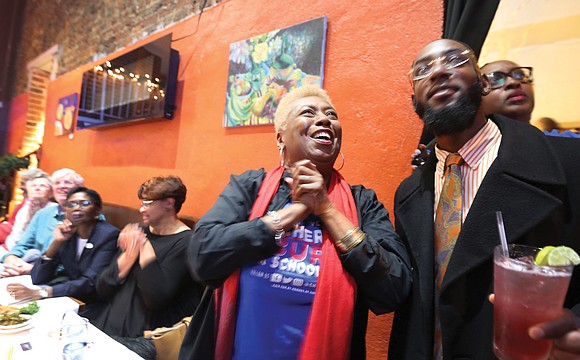 Cheryl L. Burke, who was appointed in 2017 as the interim 7th District representative to the Richmond School Board, was elected Tuesday night to fill the seat for the rest of the term through 2020.
Ms. Burke, 65, is a retired principal at Chimborazo Elementary School. She outpaced two other candidates, winning 52 percent of the vote, or 4,652. Immigration lawyer Bryce Robertson received 2,197 votes, or (24.5 percent, while community organizer Gary Broderick received 2.054 votes, or 22.9 percent.
Coining herself the "godmother of education," following the election, Ms. Burke has more than three decades of experience in education and said she understands the needs of the district and Richmond Public Schools as a whole.
What's critical, she said during a campaign interview, is modernizing and renovating RPS facilities, improving technology access for all students and helping RPS students overcome social and economic barriers.
Her campaign focused on bringing together parents, teachers, faculty, staff, community members and other stakeholders to support RPS students and addressing the financial issues and inequities in the system.
On Wednesday, Ms. Burke expressed her appreciation to volunteers and voters in the district.
"I am very proud of the team that supported me," she said. "I had students, teachers, parents, grandparents and people that have kept up with me over the years come out of the woodwork to work with me. I had to keep my mind on the main thing — the children. I am so blessed."
Ms. Burke's victory was acknowledged by RPS Superintendent Jason Kamras, whom she endorsed during last year's superintendent selection process, and Mayor Levar M. Stoney.
"I congratulate Mrs. Burke on winning her seat," Mr. Kamras said. "During her time as an interim board member for the 7th district, she brought with her a uniquely valuable perspective as a former educator."
Mayor Stoney said he looks forward to continuing their collaboration.
"Cheryl will continue to provide a strong and experienced voice to RPS decision- making," he said. "She is committed to working with the administration and City Council to improve educational outcomes in the city."
Colleagues on the board were equally pleased by the election's outcome.
"It is important to have educators on any school board," said 4th District School Board member Jonathan Young. "With her expertise and knowledge, the board will understand and acknowledge our principals as the building's CEO they are and let them run our schools without interference from the central office."
Details for Ms. Burke's swearing-in ceremony have not been announced.