Cheryl Burke sworn in to hold School Board seat through 2020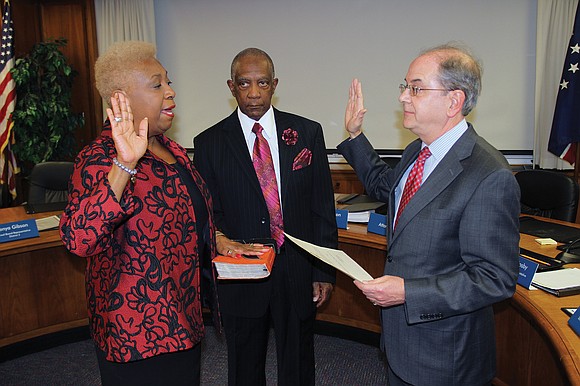 Retired elementary school principal Cheryl L. Burke was sworn in Tuesday as the official 7th District representative on the Richmond School Board.
Mrs. Burke, 65, who was appointed by the board in 2017 to fill the seat on an interim basis, won a special election on Nov. 6 to fill the seat for the remainder of the term through December 2020.
Family, close friends, supporters, Richmond Public Schools administrators and other elected officials, including 9th District School Board member Linda B. Owen, and City Council Vice President Cynthia I. Newbille, 7th District, attended the morning ceremony at City Hall, where Mrs. Burke expressed her gratitude and appreciation for their support.
Placing her hand on a Bible held by her husband, Emmitt Burke, and that originally was given to her sons when they were baptized at historic Ebenezer Baptist Church, she took the oath of office administered by Edward F. Jewett, clerk of the Richmond Circuit Court.
"I am standing here on the shoulders of my great-grandparents, grandparents and parents, all educators," she said, noting she is the fourth generation in her family to work with students.
Before the swearing-in, James M. Nachman, chairman of the Richmond Electoral Board, presented her a framed document certifying her election. Mrs. Burke won 52 percent of the votes cast to win election over two other candidates vying for the seat.
"Richmond Public Schools and the city of Richmond is a better place, a more just and more equitable and kinder place because of Cheryl Burke," Richmond Schools Superintendent Jason Kamras told the gathering.
"This is a fierce advocate for not only the children of the 7th District, but for all children in Richmond," he said of Mrs. Burke, whom he called "a wonderful mentor to me personally and professionally."
Mrs. Burke thanked everyone for their prayers and faith in her. She asked people to continue to lift up the school system and the School Board in prayer.
"I am a firm believer in faith," she said. "And I know the best is yet to come. Our children desire so much better."