Local student wins national TV contest
10/19/2017, 7:14 p.m.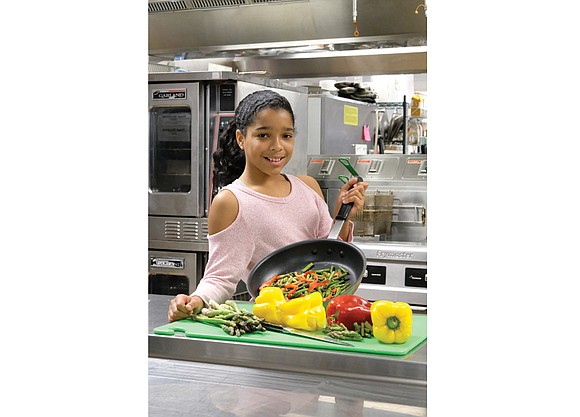 By Ronald E. Carrington
Cooking is part of Emmy Sumpter's DNA.
Emmy's earliest memories of cooking begin at age 6 when she would help her mother, personal chef Erica Sumpter, prepare recipes and meals in their kitchen.
"My mom cooked and that led me to cooking," Emmy said.
Emmy's love and talent for cooking since has grown to the tune of $10,000, an amount she recently won on the Food Network show "Chopped Junior." The show, which aired Oct. 10, is a television reality cooking game series
Emmy, a fifth-grader at St. Catherine School's school in Richmond, wowed Chopped Junior judges with dishes such as steak and zucchini kabobs, cake pop cream and raspberry fudge s'mores, and the contest-winning chorizo corn dog meatballs, a dish that she had not prepared before.
"The chorizo, a pork sausage, corn dog meatballs just came to my mind," said the 11-year-old, after proving she has the chops for turning mundane meals into something magical.
"It feels really good to be the Junior Chops winner and I like it," Emmy said.
Her mother, while pleased, isn't surprised by her win.
"Emmy mixes food combinations spontaneously creates different dishes," says her mother. "She knows the ingredients needed to take it from dull to delicious."
Emmy, the youngest of three children, agrees. Her older brothers are Tazle, 19, and James, 22.
"When I cook I have to taste the food to make sure the ingredients are just right," she said, adding that her daughter never measures or tastes the ingredients when cooking.
"She knows just the right amount of everything," said her mother. "She's really amazing and always wants to cook her way."
Doing things her way allows for more fun and the ability to experiment, Emmy said.
"It's just like a different way to express yourself," she said. "The judges were really nice and really fun to be around and Ted Allen (the show's host) asked why I didn't taste my food during the show."
"She's a vegetarian," her mother acknowledges.
During the show's food preparation segment, Emmysaw the chorizo in the pantry and the idea for a dish just popped into her head, so she tried it.
The Sumpters say it was cool traveling to New York where the Food Network is taped and learning how such shows are produced.
"It actually takes three days to make a 50-minute television show," Emmy said. "Also, the other kids on the show were really fun to be with." Besides Virginia, other contestants came from California, North Carolina and Vermont.
Emmylanded on the show after responding to a casting call that she saw online in September 2016. As a longtime fan of the Food Network, she submitted a video and was notified a few weeks later that she had been selected to appear on the show. The three-day shoot took place in January.
In order to be on the show, Emmy's parents signed a confidentiality agreement, which included not saying anything about her daughter being on the show, and they were assigned nannies to enforce the production rules.
"We had to be on time for all rehearsals and could not have any communications with outside people about the show for three days" Emmy said.
Emmy's father, Vassar Sumpter, said was surprised to learn that a lot of video footage never airs on the show.
When not cooking or winning cooking contests, Emmy enjoys performing as a member the School of Performing Arts in the Richmond Community (SPARC). Emmy credits her participation in SPARC for helping her to relax and feel comfortable in front of the camera while taping the show in New York.
Her future plans include blending her love for acting, cooking and modeling.