Candidates bring ideas, passion to School Board race
10/27/2017, 6 a.m.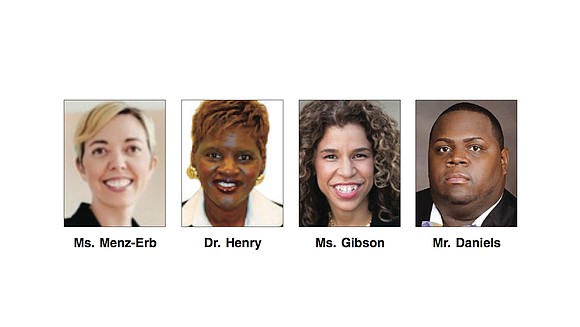 By Ronald E. Carrington
Four candidates are vying for the 3rd District seat on the Richmond School Board.
The election is to fill the unexpired term of Jeff Bourne, who was elected to the House of Delegates in February. In March, the School Board appointed Cindy Menz-Erb, a recent transplant from New York whose older child is in pre-kindergarten, to represent the district until the special election on Tuesday, Nov. 7.
Ms. Menz-Erb, a consultant for a search firm, is being challenged by Dr. Joann Henry and Kenya J. Gibson, both of whom were among the dozen finalists who sought the board's appointment in March.
Dr. Henry, 67, is a former Armstrong High School assistant principal who in 2010 opened the Dream Academy Richmond in North Side that helps adults obtain a high school diploma. She is the wife of Free Press reporter Jeremy Lazarus. She has two adult children who attended Richmond Public Schools. Ms. Gibson, 43, an advertising executive in health care marketing, has two children currently attending RPS.
A third challenger is Dorian O. Daniels, 35, who ran for the 3rd District City Council seat last year. The self-employed graduate of Thomas Jefferson High School and Virginia State University did not respond to Free Press requests for an interview.
In separate interviews, Ms. Menz-Erb, Dr. Henry and Ms. Gibson talked about their priorities on the School Board should they win the election. Among them, hiring a new superintendent, providing a quality public education in Richmond that rivals the surrounding counties, improving school facilities, boosting students' access to technology, building closer relationships with parents and more partnerships with the business community.
They also agreed that RPS should have a zero-based budgeting process, a method of budgeting in which all expenses must be justified, in order to maintain fiscal accountability. It also allows top-level strategic goals to be implemented into the budgeting process by tying them to specific functional areas of the organization.
"Some of the biggest challenges and opportunities are recruiting talent, strengthening home and schools connections, including after-school activities and supporting children by using a holistic approach including strong after-school care that's accessible and affordable with transportation supported," Ms. Menz-Erb said.
She also said RPS' human resources department should be revamped. "This school year started with 60 open teaching positions. That is not acceptable. Some basic HR practices, returning phone calls or recruiting strategically, are not being followed. We are recruiting after the counties, which does not make a lot of sense."
Ms. Menz-Erb views principals as "the most important persons running our schools."
"They create the school's tone and culture. And, ultimately, if you have a strong principal, RPS will attract and retain strong teachers," who she said have the greatest impact on a child's learning.

Ms. Menz-Erb said parents are the foundation of educational solutions and thinks a shift in some schools' perceptions is needed.
"We need to treat parents with respect and give them an opportunity to engage with their children's learning. One of the things I would like to do is hire a parent coordinator for each school building." The job would provide opportunities for parents to interact and engage with their child's learning, she said.