Cindy Menz-Erb chosen for School Board 3rd District seat
3/24/2017, 8:49 p.m.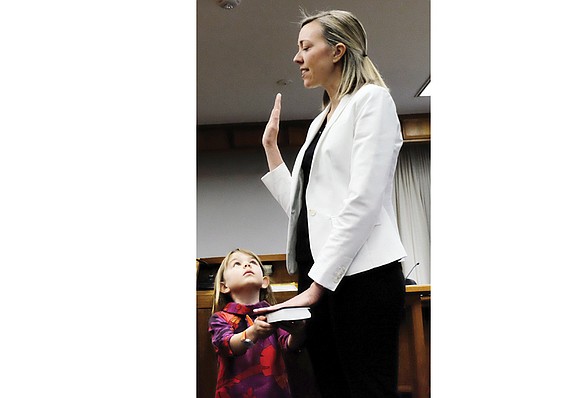 By Holly Rodriguez
Cindy Menz-Erb, a former nonprofit agency executive who moved to Richmond last year, was sworn in Tuesday as the new 3rd District representative on the Richmond School Board.
She replaces Jeff Bourne, who stepped down after winning a special election in early February to the Virginia House of Delegates.
Ms. Menz-Erb was chosen from a field of 12 candidates by a unanimous vote of the School Board after hours of deliberation in closed session that lasted after midnight Monday.
Accompanied by her 4-year-old daughter, Charlie, Ms. Menz-Erb was given the oath of office by Edward F. Jewett, clerk of the Richmond Circuit Court on Tuesday morning in the School Board chambers at City Hall. She will serve on the board until a special election is held for the 3rd District seat in November.
Ms. Menz-Erb earlier described herself as capable and ready to do the job.
"I worked in a sector that is often underfunded and often had to do more with less," she said.
School Board member Jonathan Young, 4th District, said the deliberations were lengthy because the board wanted to choose the candidate with an understanding of challenges pertinent to an urban population such as RPS.
"Cindy had that, and a track record of interfacing with philanthropists and access to national foundations," Mr. Young said in a phone interview with the Richmond Free Press.
"We want to partner with the private, corporate and nonprofit sectors in a big way to supplement our budget, but more importantly, to provide other kinds of resources from mentors and tutors to folks in the community who can advocate on our behalf."
Ms. Menz-Erb, he said, could help foster those relationships.
Before moving to Richmond from Brooklyn, N.Y., Ms. Menz-Erb was executive director of LIFT-New York, leading regional operations for the national anti-poverty organization focused on helping families.
Before joining LIFT full time in July 2013, she served as New York executive director of CFY, formerly Computers for Youth, a nonprofit that helps students, teachers and parents use digital learning to improve educational outcomes.
With both organizations, she spearheaded fundraising and programming.
She also has worked for the Center for Student Missions that provides short-term service learning opportunities for students in the United States, and as an organizer for the Lifelong AIDS Alliance in Seattle.
Ms. Menz-Erb has a bachelor's in communications from Messiah College in Pennsylvania and a master's in community development from North Park University in Chicago.
When interviewed by the School Board during its March 13 session with the candidates, the Bridgeton, N.J., native said she is passionate about public education and plans to enroll Charlie in Holton Elementary's pre-school program. She also has another younger daughter, Raina.
Asked what the top priority for RPS should be, she responded, "Supporting the entire child. It is important that we level the playing field for RPS in all schools."
That may be difficult given the circumstances facing RPS, including chronic underfunding, aging facilities in desperate need of repair and the unique needs of public school students in the City of Richmond — 78 percent qualify for free and reduced lunch, 40 percent live below the poverty line and greater numbers of special needs children than other localities.
Ms. Menz-Erb said she believes her management experience will prove valuable in helping the board navigate these challenges. She competed with 11 other candidates for the position, including current and retired RPS educators, small business owners and other professionals.