Gibson gets voters' nod for 3rd District School Board seat
11/10/2017, 6:04 p.m.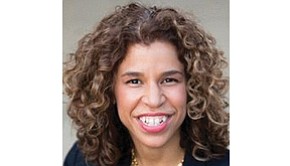 By Ronald E. Carrington
Education advocate Kenya J. Gibson, who views improving Richmond school buildings as a top priority, was elected Tuesday to represent the 3rd District on the Richmond School Board.
Ms. Gibson, who works in health care marketing, is president of the Linwood Holton Elementary PTA, where the oldest of her two children is a student.
She received 3,305 votes, or 45.7 percent of the ballots cast, beating three others to fill the unexpired term of Jeff Bourne, who was elected to the House of Delegates in February.
Ms. Gibson's closest competitor was Cindy Menz-Erb, who was appointed by the School Board in March to fill the seat until Tuesday's special election.
Ms. Menz-Erb received 1,979 votes, or 27.3 percent of the total cast, while Joann Henry finished with 1,373 votes, or 18.9 percent, and Dorian O. Daniels received 215 votes or 2.9 percent of the total.
Kevin A. Starlings, who bowed out of the race after the ballots were printed, received 338 votes.
Both Ms. Gibson and Dr. Henry were among the 12 finalists who sought the board's interim appointment in March.
Ms. Gibson will be sworn in 9 a.m. Thursday, Nov. 9, in the School Board's room on City Hall's 17th floor.
When contacted Tuesday night, Ms. Gibson, 43, referred the Free Press to a message posted on her Facebook campaign page.
"We could not be more thankful for the incredible display of community we've witnessed this election," her post states. "You have shared with us, in a million ways, a single message: this community wants the best for every last one of our kids."
During the campaign, Ms. Gibson, a New England native and graduate of the College of William & Mary and Yale said she believes education is a civil right. She said she will advocate for more funding for public education, as well as additional support for high-risk and underprivileged students.
"This election is the first step of many, but it is an important first step," her post continued. "Together we've affirmed we believe in the power of grassroots movements, and we've shown that teachers and parents — united — have a powerful voice in the face of the status quo."