Candidates line up for Nov. 7 election for Richmond offices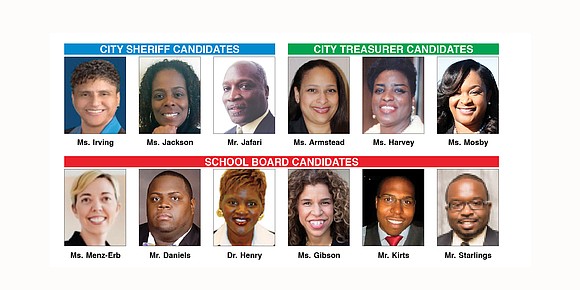 She beat incumbent Richmond Sheriff C.T. Woody Jr. in the June 13 Democratic primary.
Now Antionette Irving, a retired major from the Henrico Sheriff's Department, will face two independent challengers in the Nov. 7 general election in her bid to become Richmond's next sheriff.

The Democratic nominee will face Nicole Jackson, a former major in the Richmond Sheriff's Office who is making her first bid for public office, and businessman Emmett J. Jafari, who previously has challenged Sheriff Woody.
Both qualified for the ballot, according to Richmond Voter Registrar Kirk Showalter.
A third potential challenger, former Richmond Police detective Kenneth Foster, did not qualify, Ms. Showalter said. He did not submit the required number of valid signatures on his candidate petitions, she said.
Meanwhile, two former members of Richmond City Council, Michelle Mosby and L. Shirley Harvey, qualified to run as independents against Nichole O. Richardson Armstead for city treasurer.
Ms. Armstead, the daughter of former City Councilman Henry W. "Chuck" Richardson, won the Democratic nomination for treasurer in a primary battle with Tavarris Spinks, a business analyst.
The race is to succeed retiring city Treasurer Eunice Wilder, who has served since 1992. Most of the office's work involves collecting unpaid state income taxes.

The final local race on the Richmond ballot involves filling the 3rd District School Board seat previously held by Jeff Bourne, now a delegate to the General Assembly.
Cynthia Menz-Erb was appointed to fill the seat earlier this year and is now seeking her first term.
Five challengers qualified for the ballot, including Dorian O. Daniels, Joann Henry, Kenya Gibson, Lathaniel Kirts and Kevin A. Starlings.
Two of the challengers, Mr. Daniels and Mr. Starlings, fell short last year in runs for city offices. Mr. Daniels unsuccessfully challenged incumbent 3rd District Councilman Chris Hilbert, and Mr. Starlings lost to Mr. Bourne in the School Board race that took place before Mr. Bourne moved to the General Assembly.
The three other challengers, Dr. Henry, Ms. Gibson and Mr. Kirts, competed with Ms. Menz-Erb for the School Board appointment.