Candidates bring ideas, passion to School Board race
10/27/2017, 6 a.m.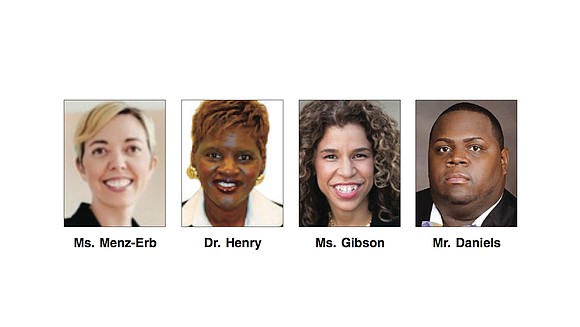 With more than 30 years of front line and administrative experience with RPS, Dr. Henry has a clear picture of what she wants to accomplish if elected.
"Focusing on an effective STEM/STEAM program, as well as career and technical education programs, is one of my priorities," she said.
The Richmond Technical Center is located in the 3rd District.
Dr. Henry said she would like to see students graduate with either a license or certification from the Tech Center because there is a continuing need for skilled craftspeople, including nursing technicians, auto mechanics, plumbers, electricians and others.
"I think our schools should be excellent. Whenever a Realtor brings a family into our city, they (should be able to) say, 'Go to this school or that school' because RPS is ranked with Henrico and Chesterfield. I don't think it's fair for young parents living in Richmond paying city taxes, yet sending their children to private schools."
Dr. Henry views bringing outside resources into the system as one of her strengths and a priority.
"I have always gone out to find companies and people to support whatever the schools are doing," she said. "Therefore, I can assist the superintendent is finding resources."
Ms. Gibson believes there needs to be more trust in the city's educational process from top to bottom — "trust in having leadership that ensures building safety, knowing our communities have a solid understanding of the budget, where the money is going and how it works."
She said the next RPS superintendent should be a talented educator and administrator who can "bring out the best in the administration, faculty and students as well as provide, especially for the board, a clear understanding of the budgetary process."
She views school facilities as one of the top priorities. That includes "building new buildings, fixing existing buildings and capacity issues, improving conditions teachers work in and students learn in, rezoning schools so families are sure where they will send their children from year to year."
Ms. Gibson said she would bring to the position the experience and energy of an advocate who has been working in the community on behalf of the schools.
"When I enrolled my daughter in the schools seven years ago, we were in a recession," she said. "I want to be part of the RPS solution when it comes to the way monies are allocated and continue to be a part of the advocacy for the system."