Dave Roberts guides Dodgers to first World Series in 29 years
10/27/2017, 6:33 a.m.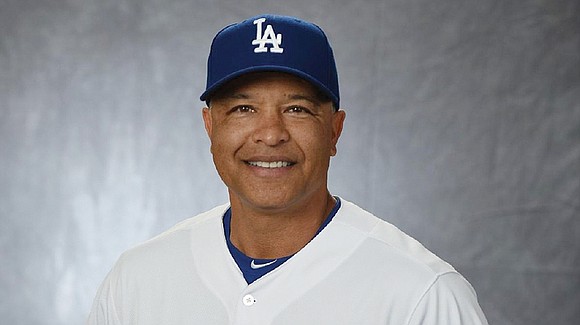 In 1947, the Brooklyn Dodgers turned to a former UCLA athlete, Jackie Robinson, who became the first African-American to play in modern Major League Baseball.
In 2016, the now Los Angeles Dodgers looked to a UCLA alumnus again — this time for their first African-American manager, Dave Roberts.
The decision has drawn nothing but raves in Southern California.
Roberts, 45, has guided the Dodgers to their first World Series appearance in 29 years. He is seeking to become just the second African-American manager to win a World Series, following Toronto's Cito Gaston in 1992 and 1993.
In his two seasons making the Los Angeles lineup, Roberts has racked up 195 wins including a MLB-best 104 this go-round. His Dodgers have rolled to two National League West titles. This fall, they defeated the Arizona Diamondbacks (3-0) and the Chicago Cubs (4-1) to advance to the World Series against the Houston Astros.
Roberts, like Robinson, wore UCLA "hero blue" before donning Dodgers Blue. As a Bruins senior, Roberts hit .353 with 45 stolen bases and left school as all-time leader in stolen bases, and also with a degree in history.
Born in Okinawa, he is the son of Japanese native Elko and Waymon Roberts, a U.S. Marine.
With the World Series underway, here are a few more basketball firsts regarding African-Americans:
1947: Dodgers' first baseman Robinson and relief pitcher Dan Bankhead become the first black players to participate in the modern World Series.
1948: Cleveland's Larry Doby becomes the first black player to swat a Series homer.
1952: The Dodgers' Joe Black becomes the first black pitcher to win a World Series game, beating the New York Yankees 4-2, with a 6-hitter.
1955: Dodgers outfielder Sandy Amoros (born in Cuba) becomes first black Latino to star in the Series, making a sensational catch in the left field corner to rob the Yankees' Yogi Berra of extra bases. The Dodgers went on to win their first ever Series.
1964: St. Louis Cardinals pitcher Bob Gibson becomes the first black player to win Series MVP. Gibson won the honor again in 1967.
1970: Emmett Ashford becomes the Series' first black umpire.
1971: The Pittsburgh Pirates field the first all-black Series lineup against the Baltimore Orioles — Dock Ellis, pitcher; Manny Sanguillen, catcher; Al Oliver, first base; Rennie Stinnett, second base; Jackie Hernandez, shortstop; Dave Cash, third base; Roberto Clemente, right field; Gene Clines, center field; Willie Stargell, left field.
1992: The Toronto Blue Jays' Cito Gaston becomes the first black manager to win the World Series. Gaston repeated the victory in 1993.