Personality: Lisa Lowe Walls
Spotlight on chef coordinator of 'Sauté & Sizzle: Richmond Men Are Cooking'
10/27/2017, 6:18 a.m.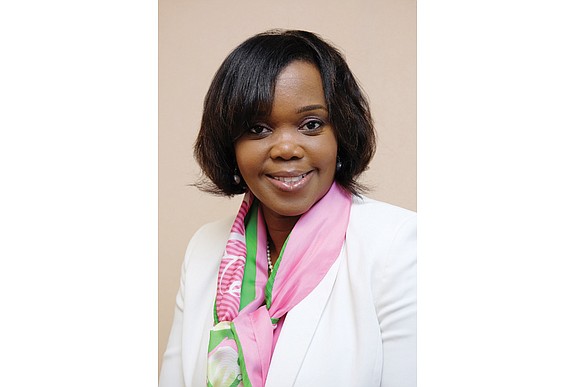 She notes that many of the chefs are returning with new dishes. "They have participated in the past partly because of their willingness to contribute to such a worthy cause and partly because they know that there will be many ladies in attendance," she laughs. "As the saying goes, the best way to anyone's heart is with food!"
The event has grown since Rho Eta Omega chapter's first Sauté & Sizzle 10 years ago, which drew about 200 people. Last year, more than 600 attended. The event has allowed the sorority to provide more than $70,000 in scholarships to more than 100 students during the past10 years.
Meet volunteer chef coordinator and this week's Personality, Lisa Lowe Walls:
Occupation: IT systems specialist, Dominion Energy Inc., and president/owner of Advanced Information Systems Consulting Firm.
What I do: Oversee complex applications and systems for a large utility company and manage logistics for military operations.

Community involvement: Chef coordinator for Rho Eta Omega Chapter of Alpha Kappa Alpha Sorority's "Sauté and Sizzle: Richmond Men Are Cooking" benefit.
Date and place of birth: June 17 in Richmond.
Current residence: Chester.
Education: Bachelor's and master's in computer science, Virginia State University.
Family: Single, with two Duke University graduates, daughters Brittany Walls, 27, and Taylor Walls, 24.
Who came up with idea for "Sauté & Sizzle: Richmond Men Are Cooking": Karen Hicks and Sada Hill, members of Alpha Kappa Alpha Sorority, attended a similar event in Philadelphia in 2005. The event was such a huge success that our chapter decided to use it as our annual fundraising event.
Event fundraising goal: $25,000. Last year, Rho Eta Omega presented $20,000 in scholarships to local high school seniors.

A perfect day for me is: Relaxing in pajamas all day and marathon watching "Scandal," "Queen Sugar" and "Power."
How I unwind: Watching the Game Show Network. It keeps the brain stimulated and someone always wins!
Something I love to do that most people would never imagine: Long-distance driving. I should have been a truck driver. It's nothing for me to drive to New York, shop all day, then drive back. I have driven to California in 37 hours non-stop!

Quotes that I am most inspired by: "Never place a period where God has placed a comma," "Whatever you are going through will pass" and "Get ready for your next journey."
Persons who influenced me the most: My father, Figurs Lowe, who worked long hours and multiple jobs simultaneously to make sure his eight children lived a comfortable life. And my mother, Katherine Lowe, who won't admit that I am her favorite (I know I am), but has always given us so much love and support.
Best things my parents ever taught me: Do the best you can, be the best you can and don't settle for less than the best.
Book that influenced me the most: It was actually a magazine, "Inc. Magazine 500 Top Entreprenurial Superstars," which inspired me to start my own business in 2005.
What I'm reading now: "The Book of Joy: Lasting Happiness in a Changing World," by Archbishop Desmond Tutu and the Dalai Lama.
My next goal: To learn to play a real song on the piano. (I have attempted this several times!)