Former FBI director James Comey at Howard University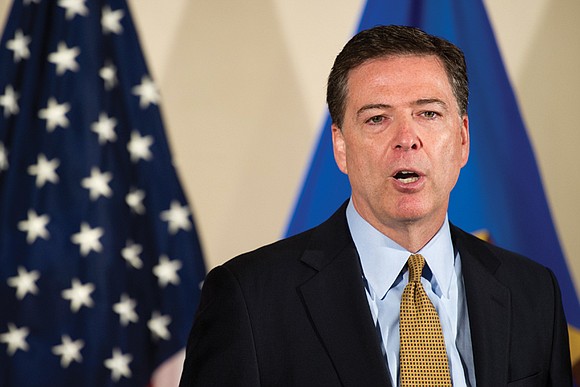 James Comey, the FBI director fired by President Trump in May, has a new job.
He will lead and conduct a series of lectures at Howard University and be the keynote speaker at the university's opening convocation Friday, Sept. 22.
Mr. Comey's yearlong appointment to the Gwendolyn S. and Colbert I. King Chair in Public Policy was announced last week by the university in Washington that is celebrating its 150th anniversary this year.
Mr. Comey will coordinate and lead the lectures that are to feature various speakers on several topics. The lecture topics were not announced.
Howard University President Wayne A.I. Frederick praised Mr. Comey and said his "expertise and understanding of the challenges we continue to face today will go a long way in sparking rich discussion and advancing meaningful debates across campus."
Mr. Comey, who previously served as a federal prosecutor in Richmond and a deputy U.S. attorney general, said he's honored to take the position.
"Howard has a long-standing history of being a vibrant academic community and the perfect place to have rich dialogue on many of the most pressing issues we face today," he said in a statement. "I look forward to contributing to this remarkable institution and engaging students and faculty alike."
He said he will donate his $100,000 salary to Howard University for scholarships for students who have been in foster care.
Mr. Comey was appointed FBI director in September 2013 by President Obama. The traditional 10-year term for FBI chiefs was cut short when he was fired by President Trump in May amid an investigation into Russian interference in the 2016 presidential election and possible collusion with the Trump campaign.
The White House initially said Mr. Comey was fired because of his handling of the investigation into former Democratic presidential candidate Hillary Clinton's email server, but President Trump then told NBC the Russia investigation was on his mind when he fired Mr. Comey.
Prior to becoming FBI director, Mr. Comey held positions as an adjunct professor at the University of Richmond Law School and as a specialist in national security law at the Columbia University Law School.