Personality: Antuane Ramon Moore
Spotlight on Richmond Education Association president
9/1/2017, 8:01 a.m.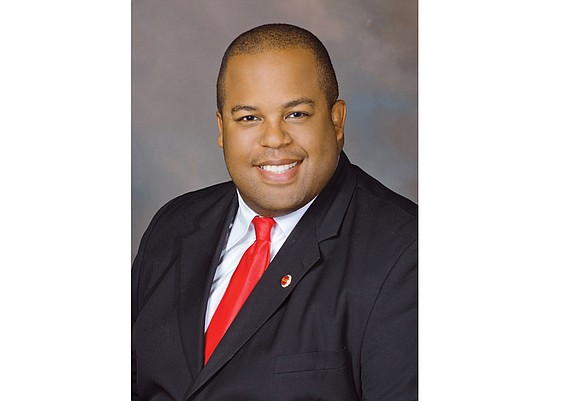 "The public and politicians need to understand that meaningful improvement doesn't happen overnight, and it doesn't happen without the resources necessary to ensure those improvements," he says.
"Every student is unique and there should not be an expectation that there is a one-size-fits-all approach to teaching that will work."
As REA president, Mr. Moore is planning events and activities to bridge the gap that sometimes exists between parent and teacher understanding and expectations in shaping student academic success.
He describes the possibility of hosting a "community lounge" that will be similar to an open forum for parents to ask educators questions. Another is a biannual event that he calls "field days," where sessions, focused on specific challenges facing each grade, will be offered for teachers to share their experiences and needs and for parents to better understand how to best help students.
Meet this week's Personality and Richmond education advocate, Antuane Ramon Moore:
Occupation: In-school suspension coordinator at Binford Middle School. I enforce rules and regulations of the in-school suspension program while creating a nurturing environment for learning. 
Community involvement: President, Richmond Education Association.
When elected and length of term: July 1. I serve through June 30, 2019.
Other community involvement: Concerned Black Men of Richmond; organist for Thirsty-first Street Baptist Church; member, Kappa Alpha Psi Fraternity; Leadership Metro Richmond Class of 2014; and Delaney Foundation member.
The REA is: The only professional union that represents the employees, instructional and non-instructional, of Richmond Public Schools.
Number of REA members: More than 1,500.
Date and place of birth: Jan. 8 in Richmond.
Current residence: Church Hill in Richmond.
Alma maters: Armstrong High School, Class of 1997; bachelor's degree in music, Virginia State University; master's degree in education, Virginia State University; and special education certification, Virginia Union University.
Family: Mother, Gayles Parker Moore, and niece, Jakya Braxton Moore.
Description of Richmond Public Schools: The Richmond school system is one that welcomes all, turns away none and does everything possible to ensure the academic, emotional and social success of all who enter.
Foremost challenge facing public schools: The focus on testing and test scores instead of focusing on providing all students with the skills they need to be academically ready to pursue post-secondary education or to be workforce ready so they all can become productive citizens in a competitive, global society.
What school officials need to do: Present the needs of the school system in a forthright, positive and unapologetic way so that current services are maintained, and increase funding to add extended day and Saturday academic wrap-around services and build new schools.
How to define 21st century learning: A content-rich curriculum provided through engaging lessons and experiences that are rigorous, relevant and supported by the latest technology available. These resources will prepare students for a post-secondary education, a job upon finishing high school and the ability to re-invent themselves for careers that have yet to be created.
How important is it to have a modern environment for learning: The learning environment is crucial to successful student learning outcomes and must be well-equipped to meet the needs of a modern society in a global arena.