Jazz exhibition opens Sept.19 at The Valentine
9/15/2017, 11:45 a.m.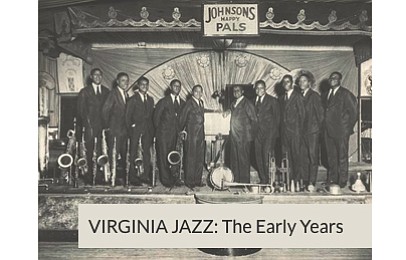 Nearly three dozen Virginia-based musicians who made national and international contributions to the development of jazz will be showcased in an exhibit opening next week at The Valentine.
"Virginia Jazz: The Early Years," an exhibition hosted by the Richmond Jazz Society, opens 10 a.m. Tuesday, Sept. 19, at the museum at 1015 E. Clay St., in Downtown.
Refreshments and live jazz will highlight the opening, which is free to the public.
The exhibition runs through April 30 and focuses on the development of jazz from the early 1900s to the mid-1960s. Photographs, memorabilia and biographies of the 35 musicians will be featured, along with a video montage of vintage film clips and music.
In conjunction with the exhibition, the Richmond Jazz Society is hosting a series of performances and talks by noted jazz celebrities.
Mercedes Ellington, dancer, entertainer and granddaughter of Duke Ellington, will talk about her book, "Duke Ellington, An American Composer and Icon," during a signing event 3 to 5 p.m. Sunday, Oct. 15, at The Valentine.
Cecelia Calloway, storyteller, vocalist and daughter of Cab Calloway, will perform 7 p.m. Tuesday, Nov. 7, at the Capital Ale House Downtown Music Hall, 623 E. Main St. Tickets are available at www.va.jazz.org.
Dr. John Edward Hasse, retired curator of American music at The Smithsonian, will host a discussion and slide presentation, "Ella Fitzgerald at 100," and sign his book, "Beyond Category: The Life and Genius of Duke Ellington," at 3 p.m. Sunday, Nov. 19 at The Valentine.
Details: www.vajazz.org or (804) 643-1972.