Will Richmond be the next Charlottesville?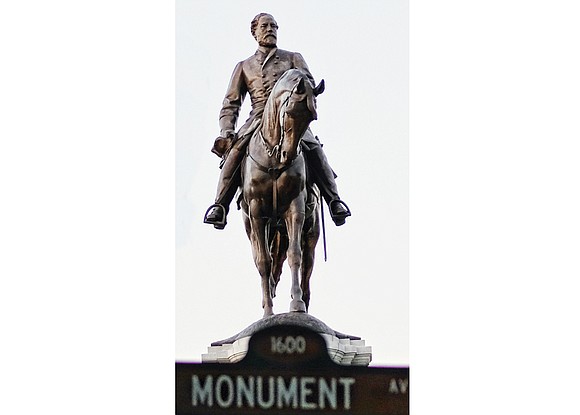 In defiance of Gov. Terry McAuliffe's ban on demonstrations at the Robert E. Lee statue on Monument Avenue, a little known Tennessee-based group of Confederate sympathizers is going ahead with a rally to promote protection of the statue.
In a Facebook post, the group calling itself CSA II: The New Confederate States of America said the rally is to take place 10 a.m. to 6 p.m. Saturday, Sept. 16.
Already, it has created a backlash, with an opposition rally expected to greet them organized by the Community of Richmond or CORVA. Others also are planning anti-racism rallies and programs, but at venues away from the statue site.
Richmond is prepared to allow demonstrations near the statue, but officials are seeking to head off the violent clashes that occurred in Charlottesville that led to three deaths and dozens of injuries.
"We will respect peaceful and law-abiding freedom of expression and assembly," Richmond Mayor Levar M. Stoney stated. "But we will not tolerate any activity in our city that seeks to cause violence to individuals or property, or endangers public health or public safety. If you do not respect our city, we will lock you up."
Police Chief Alfred Durham is making plans to ensure the Charlottesville violence is not repeated.
"We do not want what happened in Charlottesville to happen in Richmond," the chief stated in a letter that was issued to residents of the area.
That's just fine with CSA II, according to its Facebook page.
This protest is all about "heritage not hate," the website states, and the group stated that it will chase off neo-Nazis and anyone else with a hate group.
"No Racist Groups Will Be Allowed In Our Rally Area!!!" the protest organizers stated.
How many the CSA group will muster is unknown, but an early estimate is between 50 to 100.
The CSA group appears to be unknown to Confederate groups such as the Virginia Flaggers and the Sons of the Confederacy that hold rallies at the Lee statue around his birthday on Jan. 19. Those groups have no plans to attend the rally.
Meanwhile, CORVA also is promoting a nonviolent approach to their counter-demonstration, which the group claims is aimed at protecting the city from the "the same violent extremists that were at Charlottesville."
Organizers promoting the counterprotest on Facebook are urging those who take part to pass out white roses, a symbol of nonviolent resistance in Nazi Germany.
The goal of the counter-demonstration, according to a Facebook post: "To send a message as a community and as individuals … that our love is stronger than their hate. We aren't afraid to stand up for what is right, but we aren't 'violent thugs,' and we are protecting our right to live in a place free of oppression, segregation and hate."
Ahead of what could turn out to be a tame affair of chants and banner waving rather than violence, Chief Durham and Mayor Stoney are to meet with city residents 6 p.m. Thursday, Sept. 14, at First Baptist Church at Monument Avenue and the Boulevard to brief them on plans for handling the rally at the Lee statue and any others that take place.