'Racists go home!'
Members of Tenn.-based neo-Confederate group met by hundreds of chanting counterprotesters at Saturday's Monument Avenue rally
9/22/2017, 7:07 p.m.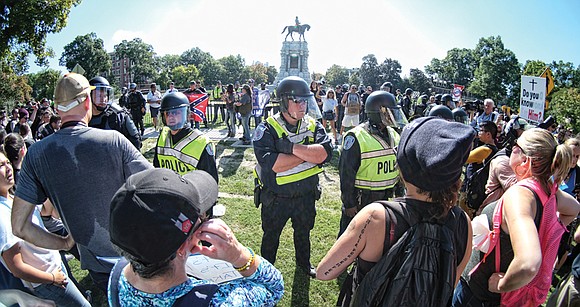 By Ronald E. Carrington
A potentially volatile "Heritage Not Hate" rally led by a neo-Confederate group turned into a war of words Saturday as the small, but armed band found itself outnumbered by hundreds on Richmond's Monument Avenue.
The Tennessee-based group, CSA II: The New Confederate States of America, called the rally to show their support for the statue of Confederate Robert E. Lee as city leaders wrestle with whether the Confederate monuments on the tree-lined street should be removed or left up "with context."
"We are here for peaceful purposes so history will not repeat itself," said Thomas Crompton, who organized the rally with his wife, Judy, and CSA II member Tara Brandau, a Florida resident who identifies with far-right militia groups.
"There is a lot of shame in history," Mr. Crompton said. "But there is a lot of positive in history. We want to work together hand in hand no matter what ethnicity you are. We want to stand up for the monuments."
But with a semiautomatic rifle slung over his shoulder and a Confederate battle flag in hand, Mr. Crompton and the six other CSA members found themselves face to face with crowds of loud counterprotesters offering a different view as a line of police dressed in riot gear stood nearby.
"The Confederate flag does not represent all races and causes racial strife. We don't want that in Richmond. We are here for peace," said an unidentified counterprotester holding up a sign, "A dying mule kicks the hardest."
"Traitors go home," several counterprotesters chanted. "We showed up. Where are they?" others shouted, calling attention to the paltry numbers of neo-Confederates who actually came to the rally.
City officials and police, including forces from Virginia Commonwealth University, State Police and surrounding jurisdictions, braced for Saturday's rally, held by the neo-Confederate group without a permit and in defiance of Gov. Terry McAuliffe's ban on demonstrations at the state-owned Lee statue.
It was the first such rally of Confederate supporters since white supremacist groups violently clashed with counterprotesters in Charlottesville last month over that city's planned removal from public parks statues of Confederates Lee and Stonewall Jackson. One woman was killed and 19 people were injured Aug. 12 when a white supremacist drove his car into the crowd of counterprotesters.
In Richmond, the area around the Lee statue was cordoned off, with barricades of fencing around the statue itself and along the streets radiating from the circle — Monument Avenue from Lombardy Street to Meadow Street and about four blocks of Allen Avenue.
While Monument Avenue was blocked to vehicle traffic, pedestrian access was limited. The hundreds of people who turned out for the 9 a.m. rally and counterprotest had to go through police perimeters to get to the three separate rally points. To get from one side of the monument to another, people were required to walk more than eight blocks around the police barricades simply to cross the street.
Richmonders Lauren Smith and Katy Johnson, dressed in their Sunday best and singing "The Battle Hymn of the Republic," gave out white paper roses, a symbol of nonviolent resistance in Nazi Germany.