'Racists go home!'
Members of Tenn.-based neo-Confederate group met by hundreds of chanting counterprotesters at Saturday's Monument Avenue rally
9/22/2017, 7:07 p.m.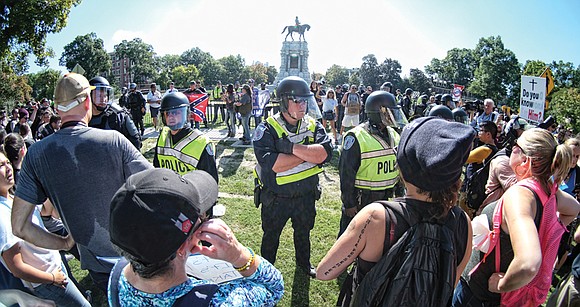 While neo-Confederates waved flags and chanted "All lives matter," the crowd of counterprotesters continued to grow, their chants of "Racists go home" swelling in volume with the crowd.
State Police dressed in riot gear separated the opposing groups by forming a semicircle around the counterprotesters and forcing them to move back.
At one point, police made the decision to escort the Confederate supporters away from the Lee statue for their safety.
Despite the morning starting with several heated exchanges, the day was mostly peaceful.
One block east of the Lee monument, a conglomerate of groups, including anti-fascists, Democratic Socialists of America wearing "Reds Care" T-shirts, members of Virginia Defenders for Freedom and Justice and Fight for 15, held up hand-crafted signs stating "No shrines to white supremacy." While many chanted, "Hey, hey, ho, ho, Confederate statues have to go," others debated each other.
"We are here to fight white supremacy and show solidarity with others doing it now," said Austin Gonzalez of the Democratic Socialists of America.
"Richmond and Virginia have always been a battleground for this sort of thing. It is important to show out white supremacy in our backyard, because if you don't, that's how it expands," said the Richmond native who now lives in a rural part of Spotsylvania County. "When you oppose it in its cradle, that's how you stop it."
Around 10:30 a.m., marchers from a racial justice rally at the Maggie Walker statue in Downtown arrived at Stuart Circle and its statue of Confederate J.E.B. Stuart. Among the marchers were members of Black Lives Matter from New York.
After some debate with an "unofficial" Black Lives Matter member from Newport News and a group of pistol-carrying members of Antifa, the crowd moved through the outer barricades toward the Lee monument.
Clergy members supporting the counterprotesters had their own take on the rally.
"We are looking for some renewal of friendly relations, but it doesn't look like either side is coming together," said the Rev. Jabriel S. Ballentine, an Episcopal priest. "And both sides are bearing their heels down in their positions.
"Faith tells us we need true and authentic love, not the cliché, 'Can We All Get Along,'" Rev. Ballentine continued, "but love that is deep and meaningful where the brothers and sisters on the CSA side would understand and appreciate me to the point where they do not want to hurt me spiritually, emotionally, physically or psychologically."
Throughout four hour-plus rally, only seven people were arrested. Four were charged with wearing a mask in public, one was charged with disorderly conduct and two were charged with weapons violations — possession of a firearm by a convicted felon, possession of a stolen weapon and possession of a concealed weapon.
Residents of the stately homes along Monument Avenue expressed concern days before the rally about such an event playing out on their doorsteps. At a community meeting on Sept. 14, several asked Richmond Police Chief Alfred Durham if they should head to a hotel or leave town for the weekend.