Spotlight shines on actors of color at Emmy Awards
9/22/2017, 11:05 p.m.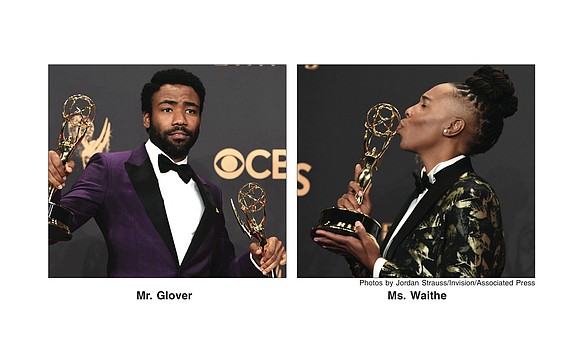 Free Press wire report
LOS ANGELES
Three African-American actors were in the winners' spotlight Sunday night at the 69th Annual Primetime Emmy Awards honoring the best of television.
The glitzy televised ceremony was hosted by Stephen Colbert, who elicited laughs from the A-list audience as President Trump became the butt of multiple jokes.
Second-time Emmy award winner Sterling K. Brown became the first African-American actor to earn the outstanding lead actor distinction in nearly 20 years for his role as an African-American who is adopted into a white family in the heart-tugging NBC family drama "This Is Us."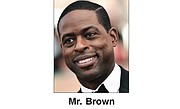 He follows Andre Braugher's 1998 win for "Homicide: Life on the Street."
In his Emmy "Thank You Cam" video, Mr. Brown gave a special shout-out to "This Is Us" creator Dan Fogelman.
"You bare your soul on the page, you make us laugh and cry in equal amounts and you keep us coming back for more in your own little way," Mr. Brown said. "You're not trying to make America great again. You're trying to make it better than what it's ever been."
Newcomer Donald Glover won the two very first Emmy awards in his career — best comedy actor and best director for his work on the hip-hop themed FX Network show "Atlanta."
He is the first African-American to win the award for directing a comedy.
Mr. Glover teased President Trump during his acceptance speech, thanking him "for making black people No. 1 on the most-oppressed list," he said.
"He's probably the reason I'm up here," Mr. Glover joked.
Lena Waithe became the first African-American woman to win an Emmy for comedy writing. Along with Aziz Ansari, the 33-year-old actress in Mr. Ansari's Netflix series "Master of None" received the distinction for writing the "Thanksgiving" episode in the latest season.
In the episode, Ms. Waithe's character comes out to her family and struggles with their reaction, which transforms as she gets older.
At the awards ceremony, Ms. Waithe gave a shout-out to her "LGBTQIA family," noting "the things that make us different, those are our superpowers."
"Every day, when you walk out the door, put on your imaginary cape and go out there and conquer the world because the world would not be as beautiful as it is if we weren't in it," she told the audience.
"For everybody out there that showed us so much love for this episode, thank you for embracing a little Indian boy from South Carolina and a little queer black girl from the Southside of Chicago," she said of herself and the creator of the series. "We appreciate it more than you could ever know."
Streaming service Hulu's "The Handmaid's Tale" and HBO's political comedy "Veep" won top prizes, with actress Julia Louis-Dreyfus winning her sixth consecutive Emmy for outstanding lead actress in a comedy for "Veep." It marks a new record for most Emmy awards won by one performer for the exact same role.
Elisabeth Moss was named best drama actress for playing a woman forced into sexual servitude for "The Handmaid's Tale." The show also won awards for writing, directing and for supporting actress Ann Dowd, for a total of eight.
Satirical sketch show "Saturday Night Live" won the most Emmys overall — nine — on the back of its most-watched season in 23 years for its spoofs of President Trump and the administration.
They included awards for Alec Baldwin, who won best comedy supporting actor for his impersonations of President Trump, for actress Kate McKinnon as Hillary Clinton and for Melissa McCarthy's turn as former White House press secretary Sean Spicer.