From hoops to music, Cornell Jones still playing to win
Fred Jeter | 4/13/2018, 7:58 a.m.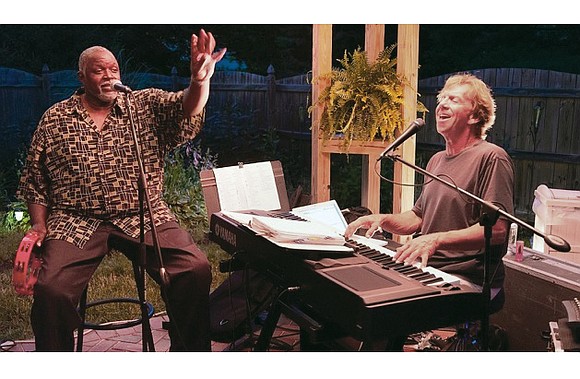 Cornell Jones may have lost the hops that made him such an exciting basketball performer, but his distinctive soulful voice remains a Richmond treasure.
Despite the passing decades and multiple knee surgeries, Mr. Jones' deep, deep bass-baritone style hasn't lost its appeal since his vocal beginnings at Jackson Ward's Greater Mt. Moriah Baptist Church.
Steve Bassett, co-author of Virginia's contemporary state song, "Sweet Virginia Breeze," and a longtime musical partner of Mr. Jones, said, "Cornell is a gospel, Southern soul phenomena."
Mr. Bassett on organ, and Mr. Jones, on conga drums, entertain as "Steve Bassett and Cornell Jones" on the local restaurant and club circuit.
"We do mostly old soul," said Mr. Jones, 67. "I just sort of pick up from Steve, ad lib, try to put a little soul into it. We feed off each other."
"We're like Sam & Dave," Mr. Bassett said, referring to the popular soul-R&B duo that performed from 1961 to 1981.
On a larger stage, Mr. Jones and Mr. Bassett combine talents, with full accompaniment, with the Mystic Soul Bubbas, attracting beach music-shag dance lovers throughout Virginia and along the East Coast.
Mr. Jones also keeps his voice warmed up singing at funerals, weddings, church gatherings and private parties.
And then there is something else. Mr. Jones is an Uber driver, but unlike any other Uber driver.
"I'm the 'Singing Uber Driver,' " he said with a deep-throated chuckle that makes you think you're talking to the late Melvin Franklin of The Temptations fame.
"You can't be in a bad mood and be in my car. I'll pick up your spirits, no matter what I do," he said.
There was a time, though, when Mr. Jones was known more for his high-rising basketball skills than for being a vocal sensation.
"I was all about basketball," he recalled of his youth. "I carried a basketball with me wherever I went and wore ankle weights to build up my leg strength."
Mr. Jones soared above the rim under two famous coaches — Stretch Gardner at Maggie L. Walker High and Virginia Commonwealth University's Chuck Noe.
He graduated from Maggie Walker in 1970 and VCU in 1974 and helped write history at each location.
In the 1968-69 season, Maggie Walker and Armstrong High schools transferred from the all-black Virginia Interscholastic Association during segregation to the Virginia High School League when it integrated.
In its first year of competition against majority-white schools, the Maggie Walker Green Dragons advanced to the state 1A basketball semifinals before falling to eventual champ Hampton High School.
Mr. Jones' Walker teammates included David Franklin, who later played at East Carolina University; Gerald Smith, who played for Norfolk State University; and Jesse Dark, who played for VCU.
VCU was in transition in 1971 when Mr. Jones joined the Rams as a walk-on. The program was in the midst of leap-frogging from obscurity to full-fledged NCAA Division I status.
At VCU, Mr. Jones took the court with four Rams who later were drafted by NBA teams — Dark, Bernard Harris, Greg McDougald and Richard "Dickie Red" Jones (no relation, but also from Maggie Walker).