Some Muslim candidates face backlash on campaign trail
Ibrahim Hirsi/MinnPost | 8/9/2018, 6 a.m.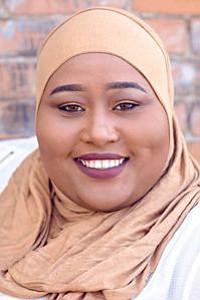 MINNEAPOLIS
Two months ago, Fardousa Jama did something no other Muslim woman in South-Central Minnesota has done: She filed to run for a City Council seat in Mankato, Minn.
Then on the Fourth of July, Ms. Jama took to the streets with her 8-year-old niece, Mai, for a door-knocking campaign, an experience she hoped would help her better connect with area constituents and learn more about issues that are important to them.


But a few minutes into the effort, one thing became apparent to Ms. Jama: Going door to door in Mankato might be a lot more difficult for a Somali-American, hijab-wearing female candidate than she had imagined.
More than once, Ms. Jama said, people she solicited for votes responded to her with racially charged comments — "Go back to where you came from" and "We don't support a terrorist" — before slamming the door in her face. Worse yet, she added, an elderly white man spat on her before telling her to get off his property.
After the spitting incident, Ms. Jama decided she didn't want her niece to see the mistreatment she endured. So Ms. Jama quickly returned home to rethink her campaign strategy.
Ms. Jama's experience isn't uncommon among Muslim American candidates seeking political seats in Minnesota, home to an estimated 150,000 Muslims. What's unusual is that it hasn't stopped many from jumping in to the effort anyway, vying for offices as varied as Congress, the state legislature, city government and public school board.






At least 15 Muslim candidates are running for political positions in Minnesota this election season. And while there are no official statistics, many observers believe that is significantly more than in any previous election.
Some of those candidates are familiar faces. Longtime Minnesota Congressman Keith Ellison is running for Minnesota attorney general, while state Rep. Ilhan Omar is seeking to take the seat Rep. Ellison currently holds in Congress.
But others, including Ms. Jama, are new to the scene, though several have spent decades serving as nonprofit leaders or political aides for elected officials in the state.
Nausheena Hussain, executive director of the Minneapolis-based Reviving the Islamic Sisterhood for Empowerment, said the candidates not only have varied leadership experience, they represent a spectrum of racial and ethnic populations.
"There are African-Americans, Somalis and Asians," she said. "The Muslim community is so diverse and it shows what Muslim diversity should look like."
Ms. Hussain also noted that Muslim candidates are running as both Democratic-Farmer-Labor and Republican candidates, though most of the office seekers align themselves with DFL's progressive arm.
"There was a time when there was only one Muslim candidate running for a seat," she said. That meant that "all Muslim voters would rally around that person and say, 'Oh, this is the one.' "
That's no longer the case.
"Now the Muslim candidates themselves have to work for their vote," Ms. Hussain said.
In the District 60B state House seat, three Muslim Americans are among a crowded field seeking the office: Mohamud Noor, a longtime activist in Minneapolis; Haaris Pasha, a law student at the University of Minnesota; and Fadumo Taani, a Republican activist.