First black Virginia child to be remembered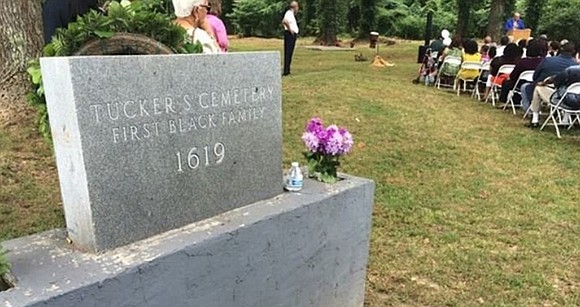 In 1624, the newly born William Tucker was baptized in the Anglican Church in Jamestown.
What made the event special is that he was the first child of African descent documented as born in the English colony that became the United States.
He was the son of Anthony and Isabell, two of the "20 and odd Negroes" who were taken off a storm-blown, Portuguese-flagged ship five years earlier and became servants of Capt. William Tucker, an early settler of Hampton.
While little further record of baby William's life has turned up, a new effort is being made to recognize him and his birth as Virginia prepares to mark the 400th anniversary of the first Africans in America next year.
On Friday, a historic family cemetery in Hampton that is named for William Tucker and his descendants will officially receive legal protection with state support.
Gov. Ralph Northam is scheduled to attend an 11 a.m. ceremony at the Tucker Family Cemetery that is to include presentation of a conservation easement designed to ensure the 2-acre burial ground is maintained in perpetuity.
The cemetery is located next to the historic Aberdeen Gardens neighborhood, which was developed and built in 1937 by and for African-Americans.
Already involved in protecting historic African-American cemeteries in Richmond, the Virginia Outdoors Foundation in May provided a $100,000 grant to the nonprofit William Tucker 1624 Society to cover the cost of the easement and provide an endowment to maintain the cemetery.
The society, based in Chesterfield County and made up of Tucker family members, led volunteer efforts to spruce up the once abandoned cemetery and secured ownership of the property two years ago. At the entry, a granite marker is inscribed "Tucker's Cemetery, First Black Family 1619."
Tucker family members, who believe they can trace their line back to baby William in 1624, have been buried there for generations along with others. Visible tombstones date to the 1800s in what once was known as the Old Colored Graveyard.

The William Tucker 1624 Society has documented another 105 graves that are unmarked and may predate the graves with tombstones. It is unknown where their original relative is buried, though the VOF speculates along with the society that he might be in the graveyard.
"Young William Tucker was counted as one of Capt. Tucker's 17 servants and may have been buried at the cemetery," the VOF stated in a project report supporting the grant award.

For the past two years, the Tucker society has organized volunteer cleanup efforts to get rid of the trash and overgrown vegetation in the private cemetery. The last burial there was in 2001.
The VOF stated in its report that the foundation's involvement would help the cemetery become a restoration model for at least 60 other neglected cemeteries in Hampton and serve as a "strong and enduring reminder of the role of African-Americans in the development of Hampton, the state of Virginia and the United States."