ICE deports undocumented immigrant who left church sanctuary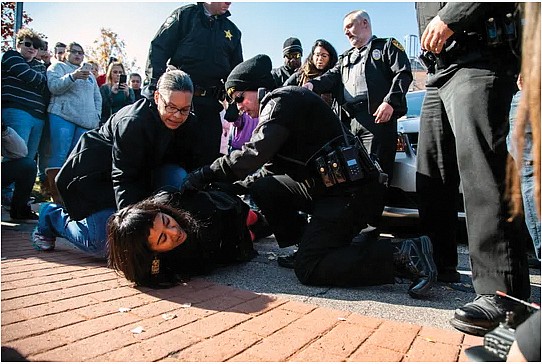 He left church sanctuary for what he hoped was a short appointment with U.S. Citizenship and Immigration Services.
He never returned.
Instead, Samuel Oliver-Bruno, an undocumented immigrant who had been living at the CityWell Church in Durham, N.C., until Nov. 23, was deported to Mexico on Nov. 29.
Bryan D. Cox, a spokesman for U.S. Immigration and Customs Enforcement, confirmed the deportation.
Mr. Oliver-Bruno, who has lived in North Carolina for more than two decades, had been living in the basement of the CityWell Church for 11 months after receiving a deportation order.
On the day after Thanksgiving, he left the church accompanied by dozens of congregation members so he could get fingerprinted at a USCIS office in Morrisville.
With the help of a pro bono lawyer and an immigrant advocacy group, Mr. Oliver-Bruno had applied for a deferral of his deportation on humanitarian grounds because his wife is ill. Julia Perez Pacheco has a heart condition caused by lupus.
When he arrived at the USCIS office, he was tackled and whisked into a van by four plainclothes ICE agents, as church members who accompanied him watched in horror. After a two-hour peaceful standoff, his protectors, who had surrounded the van, were arrested and Mr. Oliver-Bruno was taken away.
Twenty-seven church members and allies were charged with failure to disperse, a misdemeanor.
The arrest drew wide condemnation because it appeared ICE was waiting for him while he tried to pursue a petition for deferred action from deportation.
But it also shook the church sanctuary movement because it appeared to show that ICE would not tolerate any deviation from its "sensitive locations" policy that has prevented immigration agents from arresting, searching or interviewing people on church grounds.
After his arrest, Mr. Oliver-Bruno was moved from North Carolina to an ICE detention facility in Lumpkin Ga., and then to Brownsville, Texas.
"Samuel's family, church community and supporting neighbors are grieved at Samuel being ripped from his family, church and community," read a CityWell Church statement posted on Facebook.
Cleve May, a pastor at CityWell, maintained that Mr. Oliver-Bruno should have been spared arrest because he had never left the protection of the church, noting that the church's members accompanied him to the USCIS appointment, prayed, read Scripture and sang hyms.
"Sanctuary is not a building," Rev. May said. "Sanctuary is a body of believers coming around and saying, 'You belong here for us.' Samuel, by our rubric, never left sanctuary. Sanctuary went with Samuel."
But ICE, which ramped up immigration enforcement by as much as 40 percent last year, saw things differently. Any undocumented immigrant outside sensitive locations such as churches qualified for what ICE calls "targeted enforcement action."
Church leaders harshly criticized Mr. Oliver-Bruno's arrest because it took place at the USCIS office, not in an ICE office, and USCIS had sent Mr. Oliver-Bruno a letter ordering him to appear.
Congressmen G.K. Butterfield and David Price, who represent parts of Durham, said in a statement that USCIS had laid a trap for Mr. Oliver-Bruno and that "it appears ICE has acted in concert with officials at USCIS."
Church leaders said Mr. Oliver-Bruno knew the risks in going to the USCIS offices. But he felt that pursuing a deferred deportation petition was his only hope of leaving sanctuary and remaining in the United States.