Giving sanctuary?
Mayor Stoney stops short of designating Richmond a 'sanctuary city'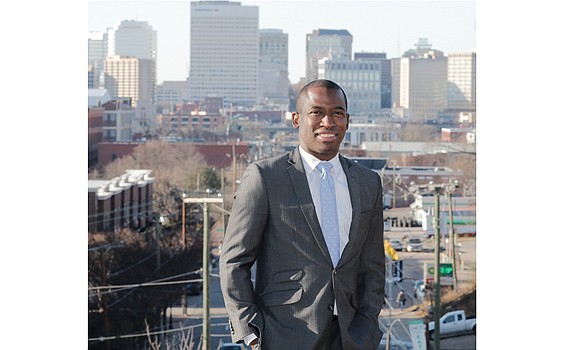 Richmond Mayor Levar M. Stoney is taking a cautious centrist approach in addressing the uproar over national immigration policy.
While he lambasts the ban on immigration that President Trump and others are pushing as "fearmongering," he also is refusing to embrace activists' calls to declare Richmond a "sanctuary city."
His solution: Promote Richmond as a "welcoming city, inclusive and diverse," while maintaining the policies that Richmond followed under his predecessors. Those policies seek to embrace immigrants and also hold them accountable if they break the law.

Already his solution has drawn sharp criticism from conservatives who say his approach is opening the door to "terrorists" and liberals who say he is not doing enough to support immigrants.
Mayor Stoney spelled out his approach Monday in a policy directive he signed that essentially tells Chief Administrative Officer Selena Cuffee-Glenn to ensure all city departments, including the Richmond Police Department, continue to do what they have been doing.
That includes:
• Protecting and promoting "policies of inclusion for all residents, regardless of national origin, immigration or refugee status, race, color, creed, age, gender, sexual orientation or identity;
• Continuing to have the Richmond Police Department avoid signing or participating in agreements with federal Immigration Customs Enforcement (ICE) that would make city officers immigration agents and maintaining the department practice of not inquiring about the place of birth or immigration status of individuals with whom its officers come in contract; and
• Ensuring that "all city employees focus on the needs and safety of our residents, not on their legal status, and advocate for and promote their well-being."
He also reminded residents about the Office of Multicultural Affairs and that "it is tasked to work with anyone in the community who may have concerns about their treatment," even though its main role has been to work with Spanish-speaking residents.
He said these policies reflect the understanding that "America is a nation of immigrants, unless you are Native American" and that the country is stronger for its diversity.
Mayor Stoney said Richmond's policies do not prevent authorities from arresting and convicting those who commit crimes — citizen or not — although Richmond Police years ago found that their ability to solve crimes improved when they did not make the immigration status of the people they talked with an issue and limited such questions to those who are arrested and in custody.
Nor did the mayor call on Sheriff C.T. Woody Jr. to change his policy of notifying ICE, as state law requires, about the immigration status of people who are jailed or giving ICE five days notice before their scheduled release to give ICE agents time to pick them up.
City figures show that ICE issued detention orders on about 40 Richmond prisoners last year, but only picked up 10, with the rest returned to the community.
However, Mayor Stoney does oppose the action of President Trump to bar mostly Muslim immigrants from seven nations, as well as other anti-immigrant policies Republican members of the Virginia General Assembly are promoting in legislation.