In limbo: City Councilman Parker C. Agelasto casts decisive vote in latest poll on Coliseum project despite looming questions over his qualifications to hold 5th District seat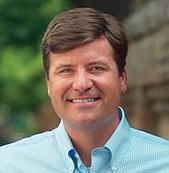 Richmond City Councilman Parker C. Agelasto, 5th District, is continuing to play a prominent role on the nine-member governing board despite ongoing concerns about the legality of his seat on council since his move last summer to another council district.
On Monday, despite feeling ill, Mr. Agelasto cast the decisive fifth vote to enable the council to move ahead over the objections of Mayor Levar M. Stoney to set up a citizens' commission to review the $1.4 billion plan to replace the Richmond Coliseum and develop new businesses and thousands of new apartments nearby.
The commission would be established if the council formally approves the legislation at its meeting on Monday, Dec. 10.
2nd District Councilwoman Kim B. Gray, who proposed the commission, said that the city and the council repeatedly have created commissions to review proposals.
Along with Mr. Agelasto and Ms. Gray, the commission proposal secured the support of Council President Chris A. Hilbert, 3rd District; Kristen N. Larson, 4th District; and Reva M. Trammell, 8th District, during a meeting of the council's Organizational Development Committee.

Mr. Agelasto's status as a council member since his move to the 1st District was not mentioned.

Still in talks over the planned Coliseum deal and unable yet to introduce any legislation to spell out the details, Mayor Stoney and his administration objected to the council doing what he has done in dealing with issues like the statues on Monument Avenue — establish a commission.
Mayor Stoney, who argues that the commission is not needed, said after the vote that he supports the views of City Council Vice President Cynthia Newbille, 7th District, and Ellen F. Robertson, 6th District, who call instead for hiring independent experts to review the proposals and advise the appropriate council committees.
The Stoney administration already has spent $500,000 on experts reviewing the plan, according to Chief Administrative Officer Selena Cuffee-Glenn, including $120,000 paid for an outside review by Chicago-based Hunden Strategic Partners.
She told the council committee that $95,000 would be available to them to hire experts.
The mayor also urged the council to hold "as many public meetings as they deem necessary to solicit public input and answer questions," although he said "one in each council district would seem appropriate."
However, Mr. Hilbert agreed with Ms. Larson that "the more eyes on this, the better," particularly in light of past projects that promised more than they delivered, such as the 6th Street Marketplace and the Washington pro football team training camp.
Mr. Hilbert said, "This is not about either having expert review or a commission. It's both."
Asked after the meeting about Mr. Agelasto's status to serve on City Council, Mr. Hilbert said he is awaiting a formal opinion from City Attorney Allen L. Jackson as to whether City Council has the authority to act to remove Mr. Agelasto from office because he no longer lives in the 5th District.
Section 4.05 of the City Charter, a section titled induction of members, includes language that empowers City Council to be the "judge of the election and qualifications of its members and the mayor."