City Councilman Parker C. Agelasto out of the woods?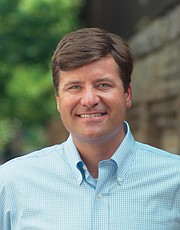 Pressure appears to be lifting for Richmond City Councilman Parker C. Agelasto to resign his seat despite moving from the 5th District he represents to the city's 1st District.
Two key city officials, the Richmond voter registrar and the city attorney, have backed away from the issue of whether Mr. Agelasto's move disqualifies him from remaining on City Council, leaving it uncertain whether any mechanism exists to enforce a requirement in the Virginia Constitution and state code that he, like other state and local officials, must live in the district he serves.
As it stands now, Mr. Agelasto is on track to remain in office through the end of his term in 2020. He has said he will not run for re-election.

City Voter Registrar Kirk Showalter declined to hear a complaint filed by three 5th District residents seeking to have her consider revoking Mr. Agelasto's voter registration because he no longer lives in the district.
Ms. Showalter stated in a Dec. 6 written response that under current state law, she has no authority to hear an allegation that Mr. Agelasto is "improperly registered" in the 5th District as a result of his move.
She noted that both state law and the state Constitution "allow voters who move away from the address at which they are registered (to) remain qualified voters of their former precinct for as long as two federal elections under certain circumstances."
As a result, state law bars her from considering Mr. Agelasto's case as long as it is based on his move from one precinct to another.
The Richmond Electoral Board already had determined that it lacked authority and had left the matter in the hands of the registrar.
Ms. Showalter indicated the General Assembly likely would need to consider changes to the language of state law or the City Charter to clarify the issue of residency when it comes to an elected official.
Michael G. Brown, a 5th District resident and former head of the state Board of Elections who filed a complaint with Ms. Showalter's office about Mr. Agelasto's move, expressed disappointment.
He said he is unlikely to pursue the only other avenue he believes is available to resolve the issue, which is to secure the signatures of 1,200 district voters, or 10 percent of those who cast ballots in the district in 2016, and take the issue to court.
Separately, City Council has found it can bypass the issue based on advice that City Attorney Allen L. Jackson provided to City Council President Chris A. Hilbert on Nov. 21 and which Mr. Hilbert then distributed to members of the council.
The Free Press obtained a copy despite Mr. Hilbert's denial on Dec. 3 that he had received an opinion from Mr. Jackson.
Mr. Jackson wrote that the "qualification of an individual to continue to hold elected office in city government does not present a legal matter for the City Council."
He cited a sentence from a May 2014 Virginia attorney general's opinion to explain that view: "[t]here is a presumption that a domicile once acquired subsists until a change is proved, and the burden of proving the change is on the party alleging it." 
As a result of that opinion, Mr. Hilbert has advised his council colleagues that the issue of Mr. Agelasto's service could be left to parties outside of city government.
That eases problems for the council, which largely has ignored residency issues involving two other City Council members, Council Vice President Cynthia I. Newbille, 7th District, and Michael J. Jones, 9th District.
Dr. Newbille publicly lists her residence as a rented property in Church Hill, but is said to live with her husband in Eastern Henrico. Despite whispers, she has not faced any public challenges concerning her residence.
Dr. Jones also has claimed his residence as a leased apartment in the 9th District, although he is said to spend significant time at a home he is said to own in Chesterfield County.
The founding pastor of a church that has sanctuaries in Henrico and Chesterfield counties, Dr. Jones overcame a residency challenge in 2016 when he ran for office and has not faced any questions since. At the time, he showed his apartment lease to State Police officers who were asked to investigate his residency, and that was sufficient for the agency to drop the case.