Councilman Agelasto's move out of 5th District puts seat in jeopardy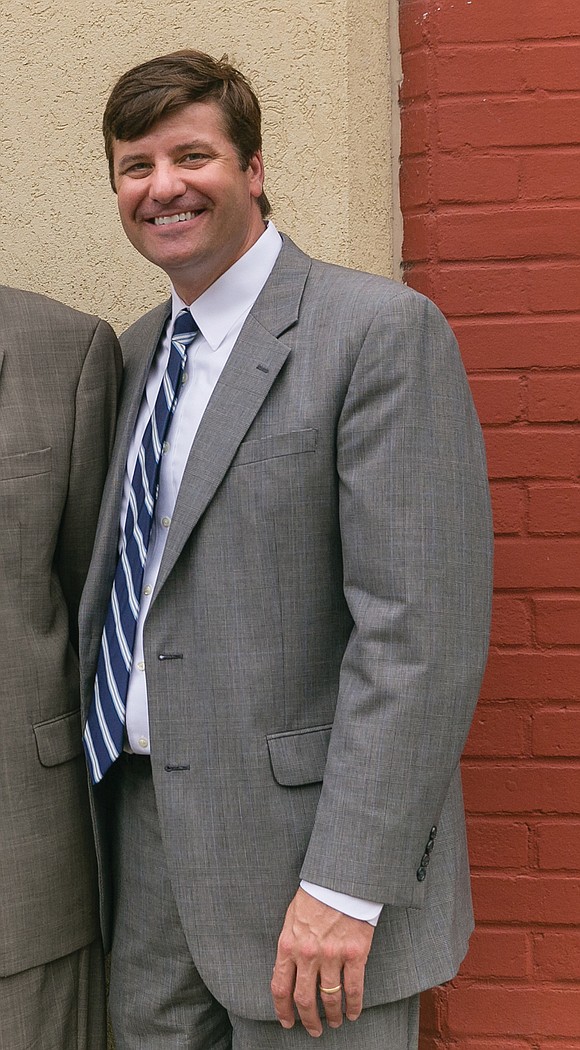 A giant question mark now hangs over 5th District City Councilman Parker C. Agelasto.
His continued service on Richmond's governing body appears to be in jeopardy after a constituent who is a former state elections official disclosed to the media that the councilman and his family now live in the 1st District.
An energetic and generally highly regarded public official since his election to City Council in 2012, Mr. Agelasto now finds himself in an unwanted spotlight after confirming on Monday that he no longer is a resident of the 5th District.
The district spans the James River and includes Randolph, Maymont, Carytown, Swansboro and Woodland Heights.
Mr. Agelasto, a former museum consultant who now leads a land conservation group, reluctantly confirmed that he, his wife, and young daughter left their 5th District residence in the 1900 block of Floyd Avenue and now live in the 4200 block of West Franklin Street.

The Agelastos purchased the Franklin Street residence on June 27 for $605,000, according to city records, and moved there after taking possession. He also continues to own the Floyd Avenue property. He said he rents it out on a month-to-month lease.
Mr. Agelasto's move appears to have triggered a state law that requires elected local or state officeholders to vacate their position once they move from the district they represent.
However, the 42-year-old Virginia Beach native, who announced Monday that he will not seek re-election in 2020, is seeking to hang on to the seat and finish out the final two years of his term with the claim that the move is "temporary" and that he intends to return to the Floyd Avenue address in the future, although he offered no specifics.
Mr. Agelasto said he consulted the City Attorney's Office about whether he can continue to serve. City Attorney Allen L. Jackson would not talk about the substance of those discussions, but stated he has not issued any official opinion on Mr. Agelasto's continued tenure on City Council.
Meanwhile, Mr. Agelasto's change of address is raising doubts about the legitimacy of the votes he has cast since the summer and of any future votes, creating a headache for his council colleagues.
Council President Chris A. Hilbert, 3rd District, who plans to give up the position of council leader in January, could not be reached immediately on whether he would ask his council colleagues to determine if Mr. Agelasto is still qualified to serve.
The City Charter empowers the council to determine the qualifications of the members, subject to a review by the Richmond Circuit Court.
Separately, Richmond Voter Registrar Kirk Showalter said she is exploring the issue of whether Mr. Agelasto is still properly registered to vote in the 5th District. Mr. Agelasto must be eligible to vote in that district to continue to serve, according to a requirement in state law.
However, Ms. Showalter said she could not disclose in a telephone conversation where Mr. Agelasto is registered to vote. She also acknowledged having only limited ability to investigate. State law requires the registrar to hold a hearing and to consider evidence on Mr. Agelasto's residency in the district if she receives a complaint from at least three registered voters in the district alleging that he has moved.