Agelasto out, but not soon enough for critics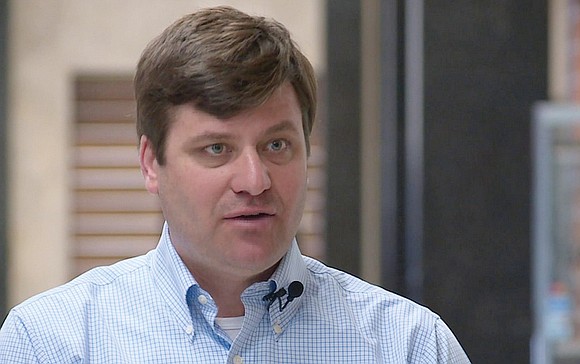 Parker C. Agelasto is ready to leave his seat on Richmond City Council nine months after he and his family moved their residence outside the 5th District he was first elected to serve in 2012.

Bowing to a demand from Richmond Commonwealth's Attorney Michael N. Herring and facing the prospect of mounting legal bills, Mr. Agelasto reluctantly issued written notice Tuesday that he would resign his seat effective Nov. 30 in a bid to avoid the "prospect of expensive legal action."
His action came as he took part in City Council deliberations to prepare a balanced budget and deal with the mayor's proposal to impose a cigarette tax and increase the tax on real estate to raise new revenue.
Giving up his effort to serve through the end of his second term in December 2020, Mr. Agelasto said his action, announced in an email sent to constituents and his colleagues, enables his council colleagues to request that the Richmond Circuit Court set a special election to fill the seat. It also opens the door for potential candidates to consider entering the race to succeed him.
Mr. Agelasto, who also serves as executive director of a Richmond area land conservation group, urged his colleagues to request that the special election coincide with the Nov. 5 general election.
In issuing his notice of his resignation, Mr. Agelasto essentially accepted a deal from Mr. Herring, who sought to ensure a smooth transition and to avoid filing his own legal action with Richmond Circuit Court to have Mr. Agelasto removed from office based on his failure to comply with a requirement in the Virginia Constitution and a state statute that local and state elected officials live in and be eligible to vote in the district they serve.

However, any hope Mr. Agelasto might have harbored that his delayed resignation would satisfy two former council members who have filed separate legal actions seeking his removal in the same court were quickly dashed. Both lawsuits remain in process. No trial date has been set for either one.
"This is preposterous," Sa'ad El-Amin, a former 6th District councilman, said of the announcement. "How can you resign a seat you have already abandoned? There is no way he can be allowed to continue to serve when he does not live in the district," Mr. El-Amin said, vowing also to continue his legal action.
Upset that Mr. Herring has been willing to allow Mr. Agelasto to remain in office through the end of the year, Mr. El-Amin earlier this month filed for a special writ in Richmond Circuit Court to have Mr. Agelasto removed. Judge W. Reilly Marchant has been assigned to the case, he said.

In his email, Mr. Agelasto bemoaned the cost and disruption he would face in having to defend himself against the action, calling it "senseless litigation" that amounts to "a vendetta being pursued by a self-interested, former city councilman who resigned when sentenced to serve time in federal prison in 2003 after misrepresenting a legal client and defrauding the government."