Highland Springs wins state football title again
Fred Jeter | 12/13/2018, 6 a.m.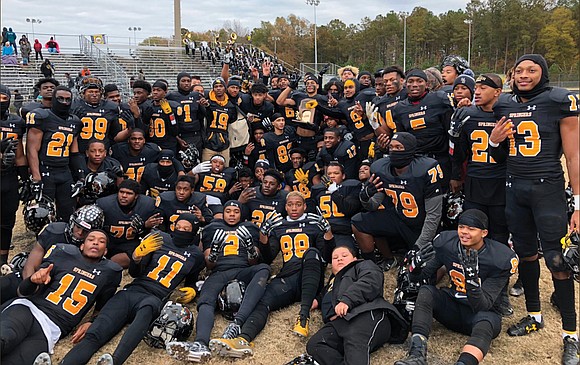 The Highland Springs High School football team members are running out of fingers to display their bling.
The Springers captured their fourth consecutive Class 5 state championship title last Saturday with a 37-26 victory over Stone Bridge High School of Ashburn in Northern Virginia.
The game was played at Hampton University's Armstrong Stadium.
The Springers' 2019 battle cry is already prepared: "One for the thumb," borrowing a line from 1981 NFL Pittsburgh Steelers who, coincidentally, also dominated the gridiron wearing black and gold.
A fifth straight ring would be venturing into uncharted territory. All Coach Loren Johnson's Springers have left to conquer is the history book.
Highland Springs joins Hampton High School (1995-1998) and Phoebus High School of Hampton (2008-2011) as the only schools in Virginia High School League history to "4-peat."
Five consecutive titles has never been done.
Coach Johnson played football at Virginia Tech and coached at Lord Botetourt High School near Roanoke and Stonewall Jackson High School in Manassas before becoming the coach at Highland Springs High in 2008.
His program in Eastern Henrico County has evolved from the "Beast of the East" to the "Best of the Best."
"It's a tremendous feat," Coach Johnson said in his postgame news conference. "This puts us in the same conversation with the Mike Smiths (Hampton High's coach) and Billy Dees (Phoebus High's coach.)"
The Springers finished the season 15-0 and are 57-3 during their four-year, magic carpet ride, having gone 14-1 each of the past three seasons.
Despite being set to lose 28 seniors from this year's powerhouse team, don't underestimate Highland Springs in 2019. Reinforcements are on the way.
The Springers' junior varsity team went undefeated this fall for the fourth straight year. Also, the Springers' continued success has helped make Highland Springs a preferred destination for transfers.
Success on such a high level is an unending process.
"When we get on that bus, the depth chart will start" for 2019, Coach Johnson said. "Preparation will start immediately."
There were stars aplenty in the Saturday's championship.
Quarterback D'Vonte Waller completed 16 of 27 passes for 277 yards and two touchdowns. Tremayne Talbert made five receptions for 132 yards, including a 39-yard touchdown catch to get the scoring started.
Antwane Wells added five catches for 94 yards. Ahmad Foster-Powell was the team's leading rusher with 84 yards on nine carries.
Until the recent stardom, the Springers' only state title came in 1961, prior to the start of VHSL playoffs. Until 1970, state championships were voted on by sports writers, VHSL officials and news agencies.
Based in Charlottesville, the VHSL has been keeping statewide football records since 1920, when Newport News High School was named champ.
In nearly a century, no school has ever won five titles in succession. Highland Springs is on the threshold of history.
All that's missing is "one for the thumb."
•
The Springers weren't the only Richmond area team to bask in the glow of a state championship.
Joining Highland Springs High in the victory lane is Chesterfield County's Manchester High School.
Finishing the season 15-0, the Lancers routed Freedom High School of Woodbridge 49-7 in the state 6A finals at Hampton University to win its first state crown in school history.
Manchester tied the VHSL record for the most points (819) in a season — 819 — to match Hampton High School's 1996 tally.
Manchester Coach Tom Hall is now in his 20th season.
The Lancers' key players include quarterback Brendon Clark, who has signed with the University of Notre Dame; offensive lineman Will Pritchard, who is heading to Virginia Tech; and defensive lineman Hakeem Beamon, who is going to Penn State University.