City Council approves commission to review $1.4B Coliseum project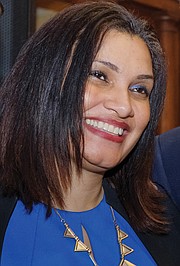 City Councilwoman Kim B. Gray scored a signal victory in securing an 8-1 vote Monday in support of her plan to create a commission of citizen experts to review the $1.4 billion plan to replace the Richmond Coliseum and redevelop at least 10 blocks of Downtown near City Hall.
The City Council vote capped nearly two hours of public hearing and debate on a night when the governing body also directed the administration to start creating a strategic plan to deal with homelessness.
On the North of Broad development, the council overrode objections from Mayor Levar M. Stoney and city Chief Administrative Officer Selena Cuffee-Glenn who see the commission as a potential delay tactic.
The vote approving the commission came after the council heard from citizens that projections stating the project would be a revenue bonanza for the city are inflated and that using incremental increases in taxes to cover costs rarely pay off.
"We need to do more than kick the tires," Ms. Gray, 2nd District, said in agreeing with speakers who called for City Council to take its time reviewing the plans and not be stampeded into approving a project that the council and residents might later regret.
"We need to open the hood. We need to look at the motor, transmission … and make sure we're making the most sound decision" on the largest development project ever proposed in Central Virginia, she said.
Councilman Michael J. Jones, 9th District, cast the lone opposition vote largely because he felt it was premature.
Three members, Council Vice President Cynthia I. Newbille, 7th District; Andreas D. Addison, 1st District; and Ellen F. Robertson, 6th District, joined the majority after being told that the council also would approve spending up to $95,000 to hire an independent consulting firm to conduct a review.
Others voting for the commission included outgoing Council President Chris A. Hilbert, 3rd District; Kristen N. Larson, 4th District; Parker C. Agelasto, 5th District; and Reva M. Trammell, 8th District.
The Stoney administration already has spent $500,000 on consultant reviews. The mayor and Ms. Cuffee-Glenn had supported having council hire its own consultant.
During the public comment period, contractor A. Hugo "Al" Bowers, who chairs the Black Business Alliance of Virginia, and James E. "J.J." Minor III, a city resident and employee, urged the council to back off creating a commission.
Mr. Minor argued that the project could create thousands of new jobs and needs to be on a fast track, while Mr. Bowers said there is no need for a commission because no legislation has been introduced yet to implement the plan.
"This is premature," Mr. Bowers said. "You need to wait until you have something before you."
However, at least 12 people, including former Delegate Joseph D. Morrissey, spoke in support of creating the commission.
Both M. Justin Griffin, who created the nocoliseum.com website, and Madison Irving cited figures from the city's study of the project to argue that the development is anticipated to produce far less revenue for the city and far fewer jobs than the mayor has projected.
Before the meeting, speakers from Richmond for All, a coalition of at least 19 community groups, gathered on the north steps of City Hall to denounce the Coliseum project and vow opposition.
Ms. Gray said after the meeting that she expects council to begin setting up the nine-member commission next year. However, she said the commission would not be put in motion until the legislation on the development is introduced.
Under the ordinance, council is to appoint two members to lead the commission and provide recommendations to the governing body for seven others to fill the remaining seats, with all of the members to have expertise on development, municipal finance and other project aspects that would need scrutiny.

The lack of legislation has become awkward for Mayor Stoney despite his effusive endorsement of the development, which is to include building a new $220 million, 17,500-seat arena; renovation of the vacant Blues Armory into a local market and entertainment center; and construction of another $1.2 billion worth of buildings that are to include a 527-room hotel, 2,900 apartments, office space and retail operations, as well as a GRTC bus transfer station.
The plan also includes moving the Richmond Social Services headquarters six miles south to a commercial district in South Side, closing an existing community service center at Southside Plaza and eliminating a major parking area for the John Marshall Courts Building.
The plan calls for private interests to build most of the development, but would require tax dollars to pay back money to be borrowed to build the arena and other public elements like the Blues Armory renovation and improvements to streets.
The city's administration and legal department are working on the ordinances that would be needed, but Mayor Stoney is keeping mum on their status. Ms. Cuffee-Glenn has said only that talks are ongoing with the Navy Hill District Corp., which is spearheading the proposal under the leadership of Dominion Energy's chief executive officer, Thomas F. Farrell II.
In other business, City Council:
• Honored outgoing Police Chief Alfred Durham and council's retiring announcer, Dick Harman, among others;
• Approved Ms. Robertson's ordinance requiring the administration to create a strategic plan to combat homelessness. But the council postponed action on a proposal to shift $1 million in revenue from the sale of tax-delinquent properties to the Affordable Housing Trust Fund and a separate proposal to require residential developers receiving city subsidies of any type to ensure 15 percent of new units are in the "affordable" category.
• Voted to provide $500,000 to the Richmond Sheriff's Office to help fund the re-entry program for people being released from jail.
• Voted to name a bridge near Oak Grove-Bellemeade Elementary School in honor of school volunteer Robert S. Argabright II.
• Eased restrictions on restaurant operators seeking to offer sidewalk seating and imposed new care and control requirements on people owning animals other than dogs and cats.
• Added Vauxhall Island to the James River Park System and cleared the way for development in the 1700 block of Chamberlayne Avenue at Roane Street.
• Killed a proposal that could have led to creation of a program to reduce property taxes on new construction, but put in place requirements that those buying tax delinquent properties develop the property within 24 months.
• Postponed action on legislation Mr. Addison and Dr. Jones have promoted to largely eliminate the residency requirement for city executives. The plan before council would require only eight top city and council officials to live in Richmond, but also would allow for a waiver that could allow them to live up to 100 miles away.