Church to become regional private school for children with disabilities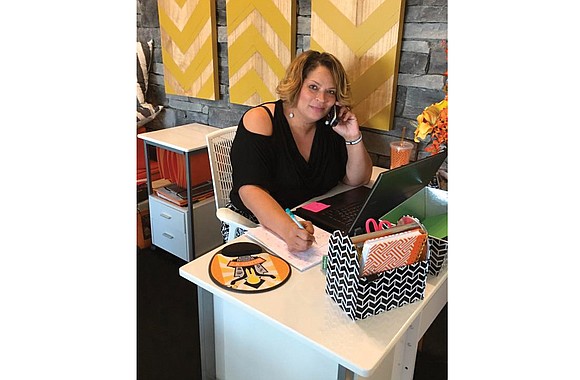 A former church is about to become the new home of a regional private school that serves children with autism and other mental challenges.
Believe-N-U Academic Development Center will move into the former Cornerstone Ministries' 22-acre property at 3071 County Drive on the boundary between Petersburg and Prince George County later this month.
The school, which Richmond native Demetria R. Jennings, owns and operates, invested about $1 million to buy the property and renovate the sanctuary and another building on the land for classrooms and offices.
Ms. Jennings is looking forward to moving the school, 12 staff members and students from the current cramped space in a nearby strip mall to the new quarters.
"We have needed more space for our programming, and now we have it in spades," said Ms. Jennings, 47, daughter of retired Richmond Police Capt. Julius Richardson, whose company operates Venture Richmond's Clean & Safe Program that cleans up Downtown Richmond, and Geraldine Smith, a former police officer and Richmond's first African-American female magistrate before she retired.
A graduate of Thomas Jefferson High School, Ms. Jennings said the property also has plenty of land to install the area's first playground for special needs children and a major garden that she said would be an outdoor classroom for students to learn biology, math and other subjects under the state Standards of Learning.
She also is planning to install a yoga studio and an art studio as part of the state-of-the-art services she plans to provide at the school that accepts students from Richmond to Sussex County.


The school currently enrolls 17 students, she said, but will be able to accommodate 50 special needs children in its new home. The school, previously a K-8 operation, is also adding classes for high school students, she said
Ms. Jennings, who earned her undergraduate and master's degrees at Virginia Commonwealth University, began her career creating online training programs for employees of several corporations, including Dominion and Mead-Westvaco.
In 2010, she opened her first venture, Believe-N-U Empowerment Center, to provide tutoring for her oldest son and other students who were falling behind in public school. Her son is now at Winston-Salem State University on a football scholarship.
But as public funding for tutoring dried up, she began the Believe-N-U Academic Center to provide educational services to children with individual education plans (IEPs) due to various learning disabilities. The school received its state license in 2015.
Ms. Jennings said her school is an option for area public schools, including Richmond, to place students who need more focused help than the school districts can provide.
The school's slogan: "We may all be different kinds of fish, but in this school, we swim together."