Personality: Rashad J. Seaborne
Spotlight on 'Strong Men & Strong Women' student essay winner
2/17/2018, 8:13 a.m.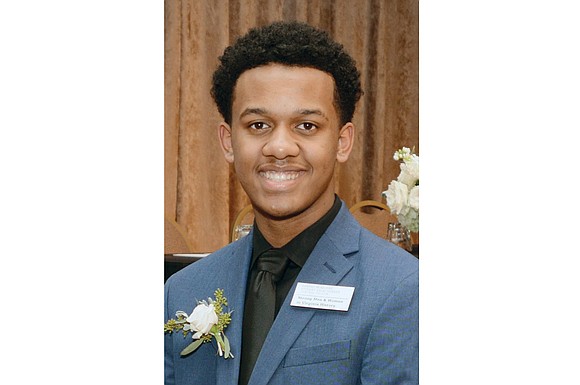 African-American teens are avid learners, like to learn and are America's future. We all just have to be good human beings and know how to respect and treat others.
That is the message Rashad J. Seaborne, a 15-year-old freshman at the Maggie L. Walker Governor's School, has for his peers.
Rashad is one of four high school students in Virginia to win the "2018 Strong Men & Strong Women in Virginia History" essay contest sponsored by Dominion Energy and the Library of Virginia.
He was recognized during a ceremony on Feb. 7 at a Downtown hotel. As a winner, he will receive an Apple MacBook Air laptop and $1,000 for his school.
He says his parents, Rahkeem and Angela Seaborne of Petersburg, were as surprised and ecstatic as he was when they learned he won.
"They were both surprised and extremely proud," he says. "My sister, Amya Renee, was the happiest one in the family. My mother said if I won, my present computer would go to my sister."
Nearly 300 students from across the state entered the contest. Rashad's winning essay used Mavis Claytor-Ford, the first African-American to earn a bachelor's degree in nursing from the University of Virginia and one of this year's Strong Men & Strong Women honorees, as an example of persistence in the face of racial adversity and while achieving academic excellence.
His essays talks about the parallels in his own life.
"Every day, I have to challenge individuals who I encounter to not believe or see those stereotypes that may be in their minds about me and the thousands of other young African-American adolescent males that are just like me," he wrote.
"One of the main reasons that (Ms. Claytor-Ford's experience) stands out more than others to me is that, like Claytor-Ford, I am in a predominately white school. There are not many minority groups here. I feel like her story inspires me to keep pushing and to keep working even when the going gets rough."
His parents, he says, have been very influential in his transition from middle to high school. They gave him advice on how to make friends.
Basketball and baseball, sports he has enjoyed since childhood, have helped him grow as a person, he says. They've taught him time management skills and teamwork.
He participates in other freshman activities and does writing and layout on the yearbook staff.
"I like interviewing, writing stories and getting quotes from other people. It is a little bit intimidating, but it gets you out of your comfort zone," says the Green Dragons' sports reporter. "After you get the feel for it, it's very engaging. I like it."
His father, he notes, is his constant teacher and guide on the path to manhood.
"My dad teaches me to be a good man and father, a good learner, how to treat and respect my elders, women and other people, how to keep going forward and to work hard," he says with pride in his voice. "We are the future." Meet student essay winner and this week's Personality, Rashad J. Seaborne.