Personality: Rashad J. Seaborne
Spotlight on 'Strong Men & Strong Women' student essay winner
2/17/2018, 8:13 a.m.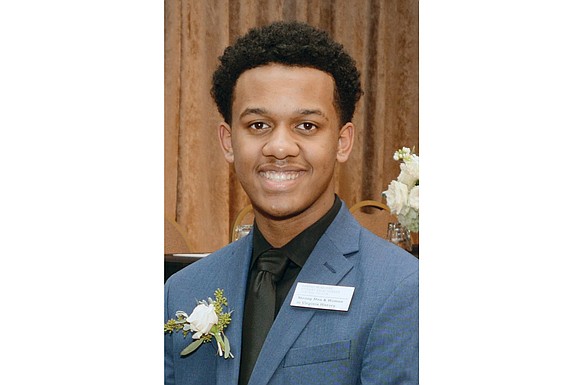 Latest honor: 2018 Central Region Essay Winner in the "Strong Men & Strong Women" Student Writing Contest sponsored by Dominion Energy and the Library of Virginia.
High school: Maggie L. Walker Governor's School. 
Extracurricular activities: Fall baseball, junior varsity basketball and yearbook.
Parents: Rahkeem and Angela Seaborne.
Sibling: Sister, Amya Renee Seaborne, 11. 
Date and place of birth: Oct. 8 in Henrico County.
Current residence: Petersburg.
Mavis Claytor-Ford was: The first African-American woman to earn a bachelor's degree in nursing from the University of Virginia in 1970 and went on to earn her master's degree in 1985.
As indicated in my winning essay about Mavis Claytor-Ford, what obstacles have I faced working toward my goals: As indicated in my essay, I have had to challenge individuals that I meet to not see the stereotypes that they may have in their minds about young African-American males today. I have to show them that I and countless other young men, just like myself, are articulate, intelligent, witty, engaged learners and leaders of tomorrow.
What lessons did I learn from reading about Mavis Claytor-Ford: I learned that Mavis Claytor-Ford continued to persevere in order to achieve her career goals despite facing many obstacles and challenges.  
Biggest challenge I have faced in my academic life: The biggest challenge I have faced in my academic life thus far would have to be the transition from middle to high school. I came to Maggie Walker Governor's School, a school of almost 800 students, from Saint Joseph School in Petersburg, a school of more than 100 students. That within itself was pretty overwhelming! Another challenge that I have faced academically is finding the balance to manage the rigor of my studies this year while continuing to remain involved in all the other things that I enjoy doing. I think I have a pretty good handle on them both. I am always up for a good challenge. 
Career goal: I have yet to decide exactly what career path I am going to choose.
Ultimate ambition: My ultimate ambition, like every other teenager I know, would be to play in the NBA!
Teacher who influenced me the most: I have been blessed to have so many teachers throughout my academic journey who have helped to shape me into the young man that I am. One that stands out would have to be Mr. Sean Lee, my eighth-grade English and social studies teacher. 
Perfect day: A perfect day for me would be not having anywhere to go or anything to do except play video games with my friends.
How I relax: I enjoy playing basketball, listening to music and spending time with my family and friends. 
Best late-night snack: Vanilla ice cream
Three words that best describe me: Kind, easygoing and respectable. 
Nobody knows that I: Cannot tell you because then everyone would know.
The persons who influenced me the most: My parents.
What I would like to change in the world: I would like to change the fact that so many people go hungry every day. If I could, I would end world hunger.
What I would like to change in my community: I would like to change some individuals' negative perspective about my community. I love my city and community and think it is a pretty neat place to live.
My outlook for the future: My outlook for the future is very bright. So many young people, like myself, are helping to shape the better tomorrow that we will all share.
Kindergarten taught me: How to share.
The book that influenced me the most: "Middle School: The Worst Years of My Life" by James Patterson.
What I'm reading now: "The Curious Incident of the Dog in the Night-Time" by Mark Haddon.
My next goal: Not just my next goal, but a constant goal, is to continue to represent myself as best I can, set a positive example for my sister and to make my mother and father proud.