Virginia General Assembly
Republicans still in charge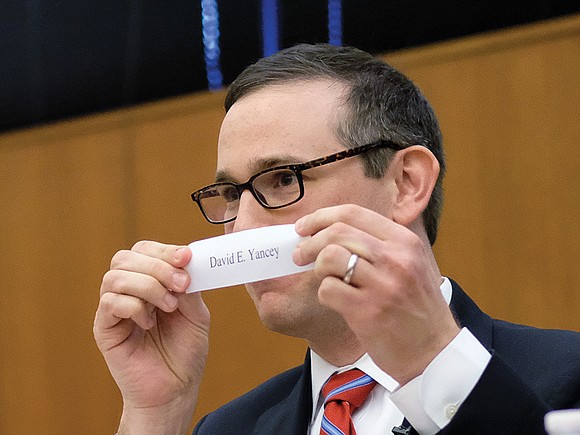 The General Assembly opened a new session Wednesday with Republican M. Kirkland "Kirk" Cox of Colonial Heights in the speaker's chair in the 100-member House of Delegates.
He became presiding officer after Republicans scored back-to-back victories last week in two contested races to retain a slight majority.
With a 21-19 margin in the Senate, that means Republicans can still control legislation on party line votes, dimming prospects for expanding Medicaid health insurance to an estimated 400,000 adult Virginians who cannot afford to buy their own.
Outgoing Gov. Terry McAuliffe and incoming Gov. Ralph Northam have pushed for expansion that would largely be paid for by the federal government, but have been unable to end the GOP blockade.
The new session will be the 150th since the Virginia legislature reconvened in 1869 for the first time in two years following an act of Congress that dissolved the General Assembly, imposed military rule and forced passage of a new state constitution allowing African-American men the right to vote. That led to Virginia regaining full statehood.
Democrats saw their best prospect for gaining a 50-50 split in the House end Jan. 4 when the state Board of Elections broke a tie vote in the 94th House District.
Board Chairman James Alcorn drew the name of three-term GOP Delegate David E. Yancey as the winner of the race.
His challenger, Democrat Shelly Simonds, appeared to have won a recount by one vote, but the race became a tie when a three-judge panel overseeing the recount agreed to count a disputed ballot for Delegate Yancey.
That forced the state board to break the tie with a drawing for the first time since 1971, according to House records.
Democratic hopes of forcing a new election in the 28th House District that covers Fredericksburg and Stafford collapsed Jan. 5 when a federal judge declined to intervene despite evidence of major mistakes that led to 147 voters being assigned to the wrong district.
The judge's decision assured that Republican Robert "Bob" Thomas Jr. would succeed retired House Speaker William J. Howell.
A recount showed he won the seat by 73 votes over Democrat Joshua Cole, but voters who had been wrongly assigned due to mapping errors sued to block Mr. Thomas from being seated and to secure a new election.
U.S. Judge T.J. Ellis III found that mistakes were made, but were not the result of state policy or a systematic effort to deny voters. He agreed with lawyers for Mr. Thomas that the mistakes did not rise to the level that would warrant federal court intervention.
The evidence showed that 86 voters from the 28th District were assigned to another district and could not participate in the Thomas-Cole race, while 61 voters from an adjacent district were wrongly allowed to vote in that contest.
While the voters who took the case to court are vowing to appeal Judge Elllis' decision to the U.S. 4th Circuit Court of Appeals, it appears to be a long shot effort.
In past decisions, the 4th Circuit has ruled that federal courts cannot intervene to cure simple mistakes in the operation of elections, despite their impact, absent evidence of a deliberate state or local effort to deny the vote to certain people.
The finding in the Thomas-Cole case is that election officials included the wrong boundary lines for the 28th District in computers and failed to make corrections, but did not do so with any intent to deny the affected voters a ballot in the correctt district.