'This is the moment for real progressive change'
1/19/2018, 6:56 a.m.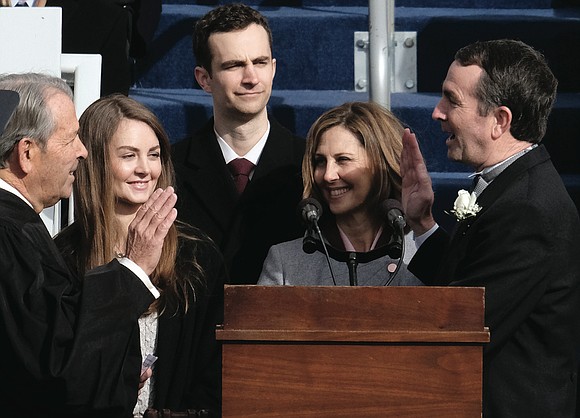 On Saturday, demonstrators urged Sens. Warner and Kaine not to vote for a continuing budget resolution unless it favorably resolves the status of DACA recipients.
"This is a significant day because, right now, there are a lot of things going on in this country that are attacking the very fundamental principles on which it was built," said Leonard Powell of Hyattsville, Md.
He and his wife, Denese, joined an informal line of people waiting to take their picture in front of the enormous Virginia state seal emblazoned on the base of the stage.
Mr. Powell stiffened when talking about President Trump's recent vulgar and disparaging comments about immigrants from Haiti, El Salvador and African nations during discussions with congressional leaders on immigration.
"That's not who we are," he said. "I spent 20 years in the military fighting for this country. I was on active duty for 16 days when I was sent to Vietnam to fight for this country. What he said does not reflect what I fought for."
He said Gov. Northam "is a man who has demonstrated the tenacity, the will and the boldness to stand up to lead Virginia forward and to make sure that our representative democracy stands and still represents all of the people."
The sun crept out several times during the inaugural ceremonies, but did little to warm the crowd. Even as people shivered, they cheered.
The audience gave thunderous applause to outgoing Gov. Terry McAuliffe, a Democrat, and his wife, Dorothy McAuliffe. Applause also exploded following the swearing in of each of the Commonwealth's new leaders — Attorney General Herring, Lt. Gov. Fairfax and Gov. Northam.
Chief Dean Branham of the Monacan Indian Nation was among the VIPs seated behind the podium. One of the nation's youths, Tristan Parrish, danced in the blessing ceremony offered by representatives of Virginia's Native American tribes.
"It was beautiful that they invited us," Chief Branham said later, noting that the inauguration capped a big week for the tribe. The Monacan Nation was among six Virginia tribes granted federal recognition on Feb. 11.
His hope for the new administration, he said, is "that they will stick to everything that they're saying, which I feel they will. I look forward to working with them as a chief."
Paul Begala, wearing black shades, watched the ceremony from the stands opposite the stage.
"I thought the new governor's inaugural address was beautiful. It was powerful," said Mr. Begala, a national Democratic political strategist and former adviser to President Clinton.
"I loved that he invoked the Commonwealth's history, the good and the bad. I don't know if I've ever seen a new governor or president come in with such candor."
Mr. Begala said he was especially moved when Gov. Northam "talked about how he had taken away hope years ago as a young doctor" from a woman whose son was dying "and how that formed him. I thought it was a beautiful speech. It's a great day."
Asked if candor is enough to turn the political tide, Mr. Begala said, "I think so. I think people are looking for truthfulness. They're looking for humility and servant leadership and bipartisanship. I think it's wonderful the governor called for that."
After the ceremony, several members of the Charlottesville chapter of Indivisible, a movement that formed after President Trump's election, stood on the steps of St. Paul's Episcopal Church outside of Capitol Square.
Indivisible was one element of "the progressive wave that swept the state in November" and elected Gov. Northam and the new leadership, explained David Singerman.
"We're here to commemorate that achievement," he said, but also "to remind the new administration that they should keep the promises that they made to the voters of Virginia — on Medicaid expansion, on the environment, on minimum wage, on voting rights, on civil rights, criminal justice reform, the school-to-prison pipeline. We think this is the moment to push for real progressive change in Virginia."