Petersburg's Ron Bolton, 10 others to be inducted into VIA Hall of Fame
1/26/2018, 1:05 p.m.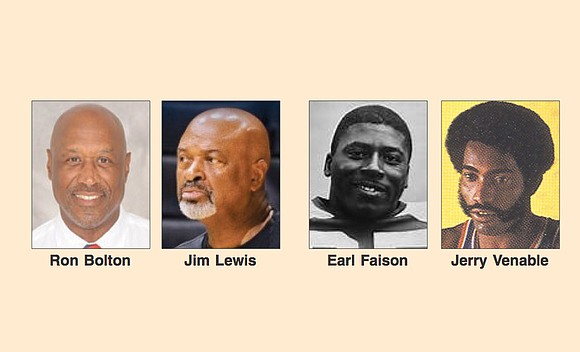 The VIA Heritage Association wants to make sure the historical achievements of stellar athletes such as Ron Bolton don't fade into oblivion.
From Petersburg's Peabody High School Class of 1968, Bolton went on to star as a defensive back at Norfolk State University and for 11 NFL seasons, recording 35 career interceptions, with the New England Patriots and the Cleveland Browns.
Bolton, 67, is among the latest athletes to be selected to the VIA Hall of Fame.
VIA, or the Virginia Interscholastic Association, coordinated athletics and other extracurricular activities for the state's all-black schools from 1954 to 1970 during school segregation. VIA's headquarters was at Virginia State University.
VIA's third Hall of Fame Induction Banquet will be June 29 at the DoubleTree by Hilton Hotel in Charlottesville.
Others named for induction are:
• Athletes Joseph Bradley (Carter G. Woodson High, Hopewell, 1957). He helped the team to a string of Group III basketball titles in the 1970s under Coach Robinette "Pro" Hayes.
• Earl Faison (Huntington High, Newport News, 1957): A brilliant all-round athlete who later starred at Indiana University and with NFL's San Diego Chargers.
• Jim Lewis (Gray/Groveton High, Alexandria, 1964): An All-State basketball star who went on to become the first African-American to play for West Virginia University.
• Jerry Venable (Booker T. Washington High, Staunton): He went on to star in basketball at Ferrum College, Kansas State and many seasons with the Harlem Globetrotters.
• Coaches Alphonso Hamilton (Booker T. Washington High, Staunton)
• Eugene Thompson (Carver High, Newport News)
• Arnold Thurmond (Parker-Gray High, Alexandria)
• Contributors William Bailey (Mary N. Smith High, Accomack)
• Julian Earls (Crestwood High, Chesapeake)
• Marguerita Ragsdale (Southside High, Dinwiddie)
Details and banquet ticket information: VIA Heritage Chairman Jimmy Hollins, (434) 825-6117 or burleyvarsityclub@gmail.com.