Muslim travel ban upheld by U.S. Supreme Court
7/1/2018, 11:24 a.m.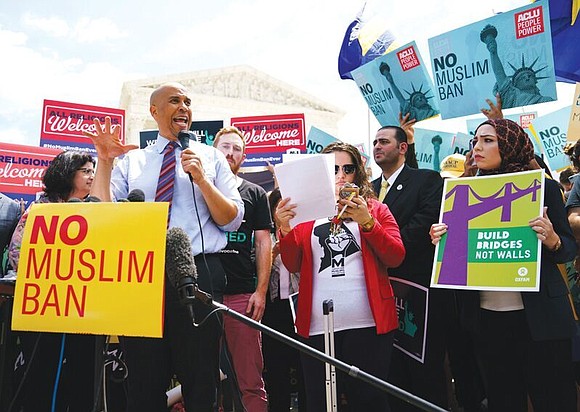 The ruling affirmed broad presidential discretion over who is allowed to enter the United States. President Trump could potentially add more countries to the ban.
Justice Roberts said President Trump's actions suspending entry of certain classes of people were "well within executive authority and could have been taken by any other president — the only question is evaluating the actions of this particular president in promulgating an otherwise valid proclamation."
The challengers argued that the policy was motivated by President Trump's enmity toward Muslims and urged courts to take into account his inflammatory comments during the 2016 presidential campaign. As a candidate, he called for "a total and complete shutdown of Muslims entering the United States."
In a dissent she read in the courtroom, Justice Sonia Sotomayor cited "stark parallels" with the court's now-discredited 1944 decision that upheld U.S. internment of Japanese-Americans during World War II. Justice Sotomayor also described various statements President Trump made on the campaign trail.
"Taking all the evidence together, a reasonable observer would conclude that the proclamation was driven primarily by anti-Muslim animus," she added.
In the ruling, Chief Justice Roberts officially repudiated the 1944 internment decision and rejected any comparison between the cases, saying that the war-era practice was "objectively unlawful and outside the scope of presidential authority."
He said it was "wholly inapt to liken that morally repugnant order to a facial neutral policy denying certain foreign nationals the privilege of admission."
The travel ban was one of President Trump's signature hard-line immigration policies that have been a central part of his presidency and "America First" approach. He issued his first version just a week after taking office, though it was quickly halted by the courts.
Chad initially was on the list of countries targeted by President Trump that was announced in September, but he removed it on April 10. Iraq and Sudan were on earlier versions of the ban. Venezuela and North Korea also were targeted in the current policy. Those restrictions were not challenged in court.
The ruling means that most people seeking to enter the United States from the affected countries will need to navigate an opaque waiver process.
"If they are allowed to have this ban, what will they try next?" asked Mohamad Mashta, a Syrian who joined one of the lawsuits challenging the ban.
Mr. Mashta is a permanent U.S. resident working as an engineer in Ohio whose wife, also Syrian, was able to obtain a visa after the ban was initially blocked.
With the policy in place, the number of people from the affected countries able to obtain visas has plummeted.