Economic injustice?
Report shows city spending with minority-owned businesses has dropped nearly 48 percent since 2014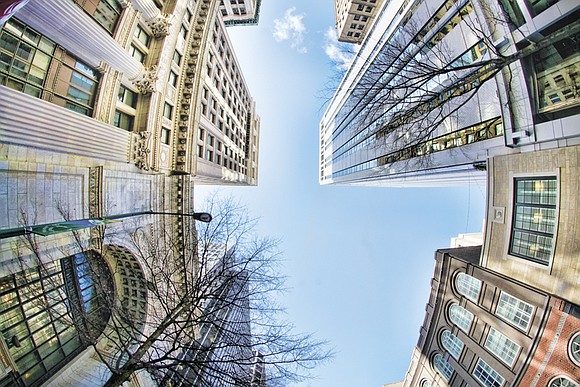 From the mayor's office to key positions at City Hall, African-Americans continue to play big roles in Richmond's government.
But the issue of city spending with black businesses and the promotion of black inclusion, inexplicably, appears to be taking a backseat to other priorities, with Mayor Levar M. Stoney having publicly spoken little about inclusion and economic justice during his 18-month tenure.

Evidence of the City Hall retreat on black business inclusion can be found in the annual reports on the share of city spending with minority businesses.
Four years ago, City Hall reported buying 15 percent of its goods and services from minority businesses, the largest percentage in years, according to a review of city data dating to the 1990s.

But since that 2014 peak, businesses owned by African-Americans, Asian-Americans, Latinos and Native Americans have seen their share of city procurement slide backward, dropping to 9 percent in 2017, the most recent year for which city data is available.
Mayor Stoney's first year in office also was 2017.
In actual dollars, the city's spending with minority businesses declined from $54.2 million in 2014 to $28.2 million in 2017, a nearly 48 percent drop, data from the city's Office of Minority Business Development show.

African-American-owned businesses, which yearly win 70 percent to 80 percent of the city's spending with minority businesses, have seen city purchases from their businesses drop by 43 percent, according to the OMBD data.
African-American businesses were awarded $36.4 million worth of city contracts in 2014 or about 10.3 percent of the city's $352.2 million in procurement spending that year.
In 2017, city spending with African-Americans had dropped $16 million from the peak. That year, the city awarded $20.6 million worth of contracts to African-American businesses, or 6.8 percent of the city's $304 million in spending.
The decline in such spending came despite the work of the OMBD. Patricia Foster, who directs the office, stated, "OMBD's programs and services are focused on increasing MBE participating and helping minority businesses grow." That includes providing technical assistance classes, hosting business conferences, conducting outreach events and advocating within City Hall on behalf of those businesses, she stated.
Still the evidence that city spending with minority business is shrinking only adds fuel to concerns about inclusion and economic justice that executives from three African-American-owned businesses raised at Richmond City Council on Monday night.
They came to breathe new life into a issue that dates back to the 1980s and led the U.S. Supreme Court to strike down a city requirement that 30 percent of all its procurement be awarded to black-owned businesses.
All three are members of the Black Business Alliance of Virginia, a Richmond-based group led by A. Hugo "Al" Bowers that is revving up a campaign to lobby City Hall for greater inclusion, particularly in construction projects.
David Harris Jr., vice president of Liquid Inc., an excavation, paving and landscaping company, said the city is not doing enough to ensure inclusion in the projects it backs.
A 2013 audit scolded city officials for continuing to award contracts to companies that have broken pre-bid promises to include minority businesses. Instead, they should be barred from bidding, according to the audit.