Shift in city procurement practice hurt black-owned businesses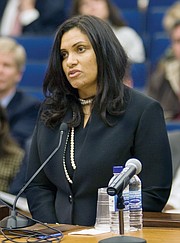 After nearly a decade of using its own pricing list to purchase supplies from local companies and save money, Richmond City Hall last year shifted to using the state's electronic purchasing system, known as eVA, after Mayor Levar M. Stoney took office.
While it is not clear the shift further reduced city costs, the change has been shattering to black-owned businesses who previously supplied the city. Several went out of business after facing an exponential increase in competition through the state system, according to City Councilwoman Kim B. Gray, 2nd District, and others who witnessed the impact.
During a dinner meeting last week focusing on ways to turn around the decline in city spending with black-owned businesses, Ms. Gray said, "I argued against" the switch to eVA in 2017, telling C. Edward Gibbs, the city's procurement director at the time, that it could be devastating to city businesses, particularly small, minority-owned companies that relied on city business.
But before he resigned in July 2017, Mr. Gibbs used his authority to begin implementing the change in the city's purchasing practice, which Umesh Dalal, the former city auditor who also was forced out in July, had long advocated.
"I don't think one person should have that kind of authority," Ms. Gray said at the Sept. 6 gathering of nearly 50 people at the Virginia Home for Boys and Girls in Henrico County.
However, to date, neither Ms. Gray nor anyone on City Council has introduced legislation to reverse the decision to use eVA and reinstate the internal Richmond Supply Schedule.
That may be coming. Councilwoman Cynthia I. Newbille, 7th District, told the meeting of black business advocacy groups and government officials that such a policy change is why she is working with City Hall staff to review the regulations, ordinances and policies that impact spending with black-owned and minority-owned businesses.
Dr. Newbille, who chairs council's Finance and Economic Development Committee, said she began the review in January with the aim of coming up with recommendations that would lead to increased contracts.
She said the city and council need to know what barriers currently exist and what needs to be altered to address concerns that black-owned businesses are being left out of city's booming economy and government spending.
Data from City Hall show that municipal spending with black-owned businesses in the city's 2017 fiscal year amounted to about $20.1 million. That was 43 percent less than the 2014 fiscal year peak when the city reported spending $36.4 million with black-owned businesses.
The city generally spends more than $300 million a year for goods and services, with white-owned businesses securing the lion's share.
Dr. Newbille did not give a timetable for completing the review.
The meeting brought together members of City Council, Mayor Stoney's administration, the Richmond School Board and the Richmond Redevelopment and Housing Authority with representatives of the six-member Unanimity Consensus advocacy coalition.
The six organizations in the coalition include the Black Business Alliance of Virginia, the Metropolitan Business League, the Richmond Branch NAACP, the Richmond Chapter of the Southern Christian Leadership Conference, the Urban League Young Professionals and the YouthPreneur Foundation.