Roderyck I. Bullock, former high school coach, community worker and advocate for disabled, dies at 44
7/26/2018, 6 a.m. | Updated on 7/30/2018, 11:28 a.m.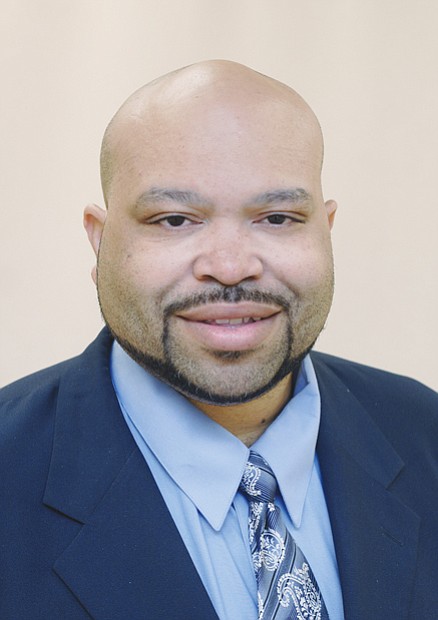 Update: A Richmond memorial service for Roderyck I. "Big Shot" Bullock will be held 1 p.m. Thursday, Aug. 2, at Thirty-first Street Baptist Church, 823 N. 31st Street in Church Hill. The funeral will be held at noon, Saturday, Aug. 4, at Davis-Royster Funeral Service Inc., 926 S. Garnett St., in Henderson, N.C.
Roderyck Irone "Big Shot" Bullock lost both feet to diabetes and had to learn to slowly and painfully maneuver with a walker and prostheses.
But that didn't keep Mr. Bullock from coming to Richmond City Council meetings to speak out against the poor, door-to-door CARE van service he and other disabled and elderly people were receiving.
His connections as a past president of the Richmond Crusade for Voters and as an active local Democratic Party member who helped elect many of the city's political leaders gave his words a special resonance and brought others to council to speak out.
In the wake of those complaints, GRTC later replaced the contractor providing CARE van service and became one of the first transit companies in the nation to add a ride-sharing operation to augment the service.
Mr. Bullock's willingness to speak out was characteristic of a man equally passionate about politics, sports and community betterment, particularly for Church Hill, where he lived much of his life.
As a longtime high school football and track coach in the Richmond area, Mr. Bullock is being remembered for his community commitment following his death Saturday, July 21, 2018, in a hospital in Rock Hill, South Carolina.
Friends said he became ill after traveling to help celebrate an uncle's retirement. Mr. Bullock was 44.
Funeral arrangements are incomplete.
Richmond Delegate Jeff M. Bourne was among the first to spread the news of Mr. Bullock's death on social media. "You are gone way too soon. You kept us honest and held us accountable. Keep watching over us," Delegate Bourne wrote on Facebook.
"Richmond will not be the same without him," James E. "J.J." Minor III, Mr. Bullock's longtime friend and president of the Richmond Branch NAACP, stated in a text to the Free Press.
"Roderyck's passion and dedication to everything he did was an inspiration," Mr. Minor noted.
Mr. Bullock chaired the Richmond NAACP's Housing Committee and was pushing the city to increase affordable housing. He also chaired the 7th Ward Committee of the Richmond City Democratic Committee during Mr. Minor's tenure as chairman.

Born in Richmond, Mr. Bullock was a graduate of John F. Kennedy High School, where he starred in football and other sports, and of Norfolk State University, where he served as manager of the basketball team.
One of his happiest memories was of NSU's 1996 team beating a Virginia Union University team led by future NBA star Ben Wallace to win the CIAA basketball championship in NSU's final appearance in the NCAA Division II conference tournament.
Mr. Bullock would return to the Richmond area to serve as a football coach at Richmond's Armstrong High School for 12 years and then as a boys and girls track coach for Highland Springs High School in Henrico County before diabetes impeded his ability to hold the post.
Mr. Bullock also mentored countless youths during his coaching career.
In 2009, Style Weekly recognized his influence on area youths by naming him to its annual Top 40 Under 40 list of individuals under 40 years of age who are making a difference.
He credited his grandfather, Plummer Bullock Sr., with teaching him to pay attention to politics.
"My grandfather raised me. My father died when I was a year old. He showed me that voting was one of the most important things in life. I couldn't wait until I turned 18 so I could vote," Mr. Bullock told a reporter.
He also credited the late Annie Giles of Whitcomb Court with stoking his interest.
Mr. Bullock recalled that he started working in political campaigns in Church Hill when he was 12. Through the years, he took part in campaigns for Henry L. Marsh III, a former Richmond mayor and retired state senator; former Mayor Dwight C. Jones; Delores L. McQuinn, a former City Council member and current member of the House of Delegates; and others on City Council and the Richmond School Board.
He also sought to emulate family members. "I had four uncles who taught me what it means to be a man — a job, a home and voting," he told a reporter.
Last year, despite his battle with diabetes, he unsuccessfully sought appointment to the city School Board after Nadine Marsh-Carter resigned the 7th District seat following the death of her husband. It was the first time he competed for public office.
He also served on the Richmond advisory board for the Central Virginia Legal Aid Society and was active in the Richmond Crusade for Voters since 1996.
In 2010, he served eight months as interim president of the Crusade after Antione Green resigned as president and Mr. Minor, the first vice president, could not move up because of his election as chair of the Richmond City Democratic Committee. Mr. Bullock, then second vice president, was next in line.
Mr. Bullock, who was among those who greeted President Obama during a campaign visit in 2012, was known for his ability to motivate voters in the East End and was active in get-out-the-vote efforts until his death.

Survivors include his wife, Karen, and their daughter, Shannon.