U.S. Sen. Cory Booker energizes Dems in Richmond for upcoming election
Thomas Kidd | 6/25/2018, 9:45 a.m.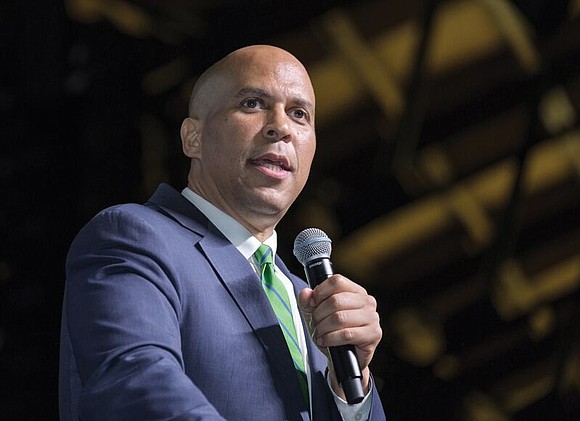 U.S. Sen. Cory A. Booker said the Democratic Party must continue being the party for all people, especially in today's political climate where American values and virtues are under assault.
"We are the party of civil rights, the party of workers' rights, the party of public education, Social Security and the environment," he told a crowd of more than 1,200 people last Saturday in Richmond.
"We are the party that cares as much about the people sitting down with the nice tablecloths eating the food as we do the folk who will be here after we are gone, cleaning the bathrooms and the floors. This is all of our America!" he said to applause.
The New Jersey senator was the keynote speaker at the annual Blue Commonwealth Gala sponsored by the Democratic Party of Virginia at Richmond's Main Street Station. The event was a combination fundraiser and booster to inspire the party faithful as they gear up for November's contests in Virginia for U.S. Senate and all 11 congressional seats.
Sen. Booker helped paint the town blue Saturday night, with the event providing face and microphone time for current and former elected Democratic officials, including U.S. Sens. Tim Kaine and Mark Warner, Congressmen A. Donald McEachin and Robert C. "Bobby" Scott, Gov. Ralph S. Northam, former Gov. Terry McAuliffe, Lt. Gov. Justin Fairfax, Attorney General Mark Herring and others.
Many talked about the party's recent victories, most notably expansion of the Medicaid health insurance program that is expected to help nearly 400,000 Virginians beginning Jan. 1. After years of being blocked by state Republicans, Medicaid expansion was approved earlier this month by the General Assembly through the state budget bill. The 19 Democrats in the state Senate were joined by four Republicans to approve the measure, while the vote was 68-30 in the House of Delegates.
"I told my husband, 'If you get health care expansion, I'll call you His Excellency,' " joked Virginia First Lady Pam Northam, who made good on her word during her time on the dais.
While the tone of the evening was celebratory, the main message was directed at party supporters, who were told to remain unified and to ride the blue wave of momentum to more Democratic victories in November.
Much of the focus was on the U.S. Senate race between incumbent Sen. Kaine and Corey Stewart, the Republican Party nominee. Mr. Stewart, who is currently serving his fourth term on the Prince William County Board of Supervisors, has gained a wide reputation for his divisive views, even among fellow Republicans. He has appeared with white nationalists speaking against the removal of Confederate statues in Virginia and has made harsh remarks against immigrants.
Sen. Kaine, who gave the introduction for Sen. Booker, seized the opportunity to take a jab at his opponent.
"I won't even mention his name," joked Sen. Kaine. "I don't want you to confuse him with the good Cory."
In his address, Sen. Booker offered high praise for Virginia's current leadership.

"You guys blow me away with the statewide leaders you elect. You put people in office that I look up to," said the 49-year-old who has been mentioned as a possible presidential contender in 2020.
He went on to describe former Gov. McAuliffe as one of the most gifted leaders he has ever witnessed; referred to Sen. Warner as his big brother; and said he considers Sen. Kaine to be a man of grace, kindness, decency and love.
"I am going to work my tuchus off between now and November so that my friend will come back to the U.S. Senate."

He also praised Virginians for standing behind their pledge of inclusiveness, specifically noting the five women — all Democrats — vying for congressional seats in November: Vangie Williams, 1st District; Elaine Lauria, 2nd District; Jennifer Lewis, 6th District; Abigail Spanberger, 7th District; and Jennifer Wexton,10th District.
"When women rise, the nation rises," Sen. Booker said. "When women rise, the planet rises. When women rise, we rise."

Four of Virginia's 11 congressional seats are held by Democrats. Party officials are hoping to win more in November.
While Sen. Booker has acknowledged that a run for the White House has crossed his mind, he said his primary focus is to make sure he is re-elected to the Senate and to help states like Virginia remain blue. Democrat Hillary Clinton and her vice presidential running mate, Sen. Kaine, won Virginia in the 2016 presidential election.
In keeping with the spirit of diversity and inclusiveness, the Democratic Party of Virginia renamed its annual event this year to the Blue Commonwealth Gala. It was previously called the Jefferson-Jackson Dinner, named for presidents Thomas Jefferson and Andrew Jackson, both of whom were slaveholders.
DPVA Chairwoman Susan Swecker released a statement back in March citing the name change represents the party's dedication to expanding opportunities for all Virginians.
"We are excited to rename our signature event as we work to make Virginia a stronger, fairer, and a more prosperous Commonwealth," she said at the time.