General Assembly adjourns with special session planned on Medicaid expansion
3/16/2018, 7:07 a.m.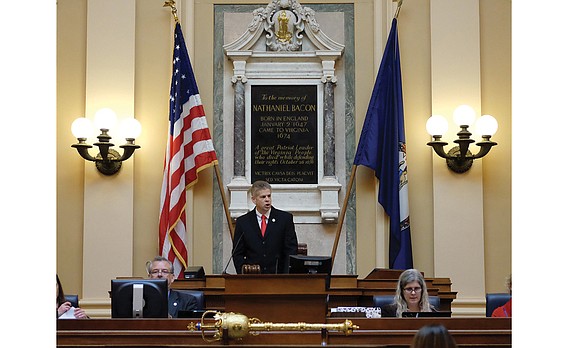 By Kirby Farineau and George Copeland Jr.
Capital News Service
The Virginia General Assembly's 2018 session came to a close on Saturday but remained divided over the state budget and Medicaid expansion, forcing a special session to resolve its differences.
Gov. Ralph S. Northam said after adjournment that he plans on dealing with the issue "sooner rather than later," and called Tuesday for a special session on Wednesday, April 11.
"We've left one of our largest missions unfinished," Gov. Northam said to legislative leaders. "As you all know, I want to be done with health care expansion."
Gov. Northam, who took office in January, ran on a campaign that included expanding Medicaid to more than 400,000 Virginians without health insurance. But as the legislature came to a close, it became apparent that a special session would be needed.
Lawmakers passed more than 870 bills, and about 300 of them — on subjects ranging from taxes and criminal justice to education and government transparency — already have been signed into law by Gov. Northam.  
The governor expressed pleasure over the resolution of a number of issues, including the increase of the grand larceny threshold, strengthening the Metro system that operates in Northern Virginia and policy reform regarding Dominion Energy.
On Medicaid, while the Senate budget has no provisions for expansion, the House spending plan allows for increased federal funding.
Republicans control both chambers by two-member margins, but there were bitter differences over Medicaid.
House Speaker Kirk Cox, R-Colonial Heights, said he is optimistic about the special session.
"We are all committed to completing work on a state budget long before July 1," said Delegate Cox, who completed his first legislative session as speaker.
Senate Democratic leader Richard Saslaw of Fairfax and Sen. Mamie Locke of Hampton, the Senate Democratic Caucus chair, blamed Senate Republicans for "holding up the entire budget process for political reasons."
Meanwhile Senate Republicans said they would continue to oppose Medicaid during the special session. 
"Senate Republicans remain unanimously committed to passing a clean budget without Obamacare's Medicaid expansion, and we will continue to work toward that goal in the special session," Senate Republican leader Thomas "Tommy" Norment Jr. of James City County said in a statement.
The legislature concluded its work the day after Gov. Northam signed one of the most-discussed bills of the session. Despite lingering opposition, the governor approved SB 966, which lifts a rate freeze that had been in effect for Dominion Energy and Appalachian Power Company, but allows the utility's broad discretion in reinvesting customer revenue. Critics claimed the bill, developed with heavy involvement from Dominion Energy, favors utility interests over those of consumers.
In another utility-related action earlier during the session, lawmakers approved SB 807 by Sen. Scott Surovell, D-Fairfax, which extended the moratorium on the closure of ponds where Dominion Energy stores its coal ash, allowing the state and utility another year on reaching agreement over how to address environmental concerns.
Legislators left Richmond without approving any of the numerous gun control bills that were submitted after recent mass shootings in Florida, Texas and Las Vegas. Among the gun-related bills, only one passed, SB 669, which restricts access of weapons to minors age 14 and older who had received involuntary mental health treatment.
Delegate Cox formed a select committee to study school safety, but said the panel would not take up gun issues, angering Democrats.
The first bill signed into law by Gov. Northam, a pediatric neurologist, reauthorizes a license for a hospital in Patrick County, allowing the facility to reopen. SB 866 took effect immediately — on Feb. 16.
Here is a rundown of other bills the governor has approved, as well as legislation awaiting action.
Bills Taking Effect July 1
Gov. Northam signed several bills tackling child abuse. They include HB 150 and HB 389, which will require local social service departments to alert schools found to have employed anyone accused of child abuse or neglect.
Young people also will be helped by HB 399 and SB 960, which seek to create new work opportunities for students. The House bill requires school systems to notify students about internships and other work-based learning experiences. The Senate measure will promote partnerships between public high schools and local businesses on internships, apprenticeships and job shadow programs.
HB 35 will add a layer of oversight to the process that puts more violent juvenile offenders in adult detention facilities for the safety of other juveniles. It also will separate these juveniles from adult offenders when confined in adult facilities.
HB 907 and 908 will allow greater transparency through public access to government meetings through the Freedom of Information Act. At the same time, Gov. Northam approved bills creating more FOIA exemptions — for records relating to public safety (HB 727), certain police records (HB 909) and select financial investment documents held by board members of the College of William & Mary (HB 1426).
Bills on the Governor's Desk
In criminal justice, HB 1550 would raise the threshold amount of money stolen that would qualify for grand larceny from $200 to $500. The current state threshold, which determines whether the crime is a felony, is one of the lowest in the United States.
Immigration saw the passage of HB 1257, which would bar the creation of sanctuary cities in Virginia by enforcing federal immigration standards on all localities. Its passage in the Senate, like the House of Delegates, came down to votes split along party lines. Gov. Northam already has made clear his intention to veto the legislation.
Last year, the General Assembly passed HB 1547, which provides state funding to renovate select historically black cemeteries in Richmond. This year, legislators approved bills focusing on African-American cemeteries in Loudoun County (SB 163), Charlottesville (HB 360) and Portsmouth (SB 198 and HB 527). A fifth, HB 284, would cover every black cemetery in the state while broadening the groups able to receive state funds.
Also awaiting Gov. Northam's signature is HB 1600, which would reduce the maximum length of a long-term school suspension from 364 calendar days to 45 school days. The bill provides exceptions in extreme cases.
HB 50 would prohibit teachers and other school employees from "lunch shaming" students who can't afford school meals by making them do chores or wear a wristband or hand stamp.
Gov. Northam has until April 9 to sign, veto or recommend changes to the bills sent to him by the General Assembly. Lawmakers then will return to Richmond on April 18 for a one-day session to consider the governor's vetoes and recommendations.