General Assembly adjourns with special session planned on Medicaid expansion
3/16/2018, 7:07 a.m.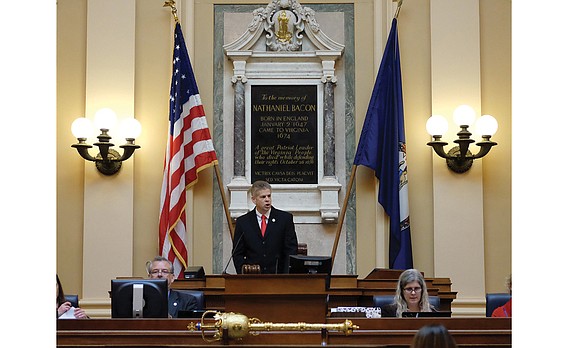 By Kirby Farineau and George Copeland Jr.
Capital News Service
The Virginia General Assembly's 2018 session came to a close on Saturday but remained divided over the state budget and Medicaid expansion, forcing a special session to resolve its differences.
Gov. Ralph S. Northam said after adjournment that he plans on dealing with the issue "sooner rather than later," and called Tuesday for a special session on Wednesday, April 11.
"We've left one of our largest missions unfinished," Gov. Northam said to legislative leaders. "As you all know, I want to be done with health care expansion."
Gov. Northam, who took office in January, ran on a campaign that included expanding Medicaid to more than 400,000 Virginians without health insurance. But as the legislature came to a close, it became apparent that a special session would be needed.
Lawmakers passed more than 870 bills, and about 300 of them — on subjects ranging from taxes and criminal justice to education and government transparency — already have been signed into law by Gov. Northam.  
The governor expressed pleasure over the resolution of a number of issues, including the increase of the grand larceny threshold, strengthening the Metro system that operates in Northern Virginia and policy reform regarding Dominion Energy.
On Medicaid, while the Senate budget has no provisions for expansion, the House spending plan allows for increased federal funding.
Republicans control both chambers by two-member margins, but there were bitter differences over Medicaid.
House Speaker Kirk Cox, R-Colonial Heights, said he is optimistic about the special session.
"We are all committed to completing work on a state budget long before July 1," said Delegate Cox, who completed his first legislative session as speaker.
Senate Democratic leader Richard Saslaw of Fairfax and Sen. Mamie Locke of Hampton, the Senate Democratic Caucus chair, blamed Senate Republicans for "holding up the entire budget process for political reasons."
Meanwhile Senate Republicans said they would continue to oppose Medicaid during the special session. 
"Senate Republicans remain unanimously committed to passing a clean budget without Obamacare's Medicaid expansion, and we will continue to work toward that goal in the special session," Senate Republican leader Thomas "Tommy" Norment Jr. of James City County said in a statement.
The legislature concluded its work the day after Gov. Northam signed one of the most-discussed bills of the session. Despite lingering opposition, the governor approved SB 966, which lifts a rate freeze that had been in effect for Dominion Energy and Appalachian Power Company, but allows the utility's broad discretion in reinvesting customer revenue. Critics claimed the bill, developed with heavy involvement from Dominion Energy, favors utility interests over those of consumers.
In another utility-related action earlier during the session, lawmakers approved SB 807 by Sen. Scott Surovell, D-Fairfax, which extended the moratorium on the closure of ponds where Dominion Energy stores its coal ash, allowing the state and utility another year on reaching agreement over how to address environmental concerns.
Legislators left Richmond without approving any of the numerous gun control bills that were submitted after recent mass shootings in Florida, Texas and Las Vegas. Among the gun-related bills, only one passed, SB 669, which restricts access of weapons to minors age 14 and older who had received involuntary mental health treatment.