'Our ballots will stop bullets'
Thousands take to streets in Richmond, D.C. and across the nation to demand gun control and school safety
3/30/2018, 10:57 a.m.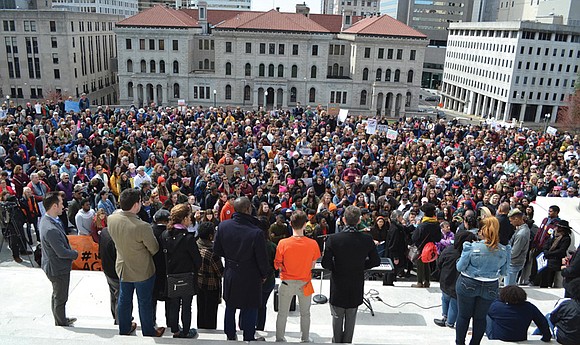 Speakers also drew attention to Virginia's history with guns, particularly the 2007 massacre at Virginia Tech in which 32 people were killed and 17 others were wounded, as well as the National Rifle Association's presence in the state politically and geographically (its headquarters is in Fairfax).
The March for Our Lives, with its main rally in Washington, was a student-led call for action with more than 800 sibling marches worldwide. It was planned in the wake of the mass shooting at Marjory Stoneman Douglas High School in Parkland, Fla., on Feb. 14, when a former students armed with a semi-automatic, military-style rifle killed 14 students and three staff members. Since then, surviving students launched the Never Again movement and urged lawmakers to impose stricter gun laws.
Calling the message from Richmond's youth "powerful," Richmond Mayor Levar M. Stoney said, "I am more inspired walking out than ever before. I think there's a real possibility for change and I leave here today filled with optimism."
IN DC
Free Press wire reports
WASHINGTON
Hundreds of thousands of teenagers and their supporters rallied across the United States against gun violence last Saturday, vowing to transform fear and grief over student killings in schools into a political movement that would yield stronger gun laws, including restoration of bans on the purchase of military-style weapons and stronger background checks.
Marchers for tougher gun laws took to the streets of the nation's capital and for sister marches in more than 800 other cities worldwide, including Richmond, Boston, New York, Chicago, Houston, Minneapolis, Phoenix, Los Angeles and Oakland, Calif.
The turnout rivaled the kind of numbers seen during the 1960s protests over civil rights and the Vietnam War.
The protests swept up activists long frustrated by the stalemate in the gun debate and brought in new, young voices. Many weren't old enough to buy a beer or to rent a car. And thousands of others, who still aren't old enough to vote, were among the estimated 800,000 people in Washington raising their voices to demand change.
Still, the big question is whether this was a blip or will translate into votes and the election of political representatives willing and able to break the stranglehold that the National Rifle Association has secured over gun legislation.
Participants were called to action by a brand-new corps of leaders: Student survivors of the school shooting in Parkland, Fla., that left 17 people dead Feb. 14.
"If you listen real close, you can hear the people in power shaking," Parkland survivor David Hogg said to roars from the protesters packing Pennsylvania Avenue from the stage near the Capitol many blocks back toward the White House. "We're going to take this to every election, to every state and every city. We're going to make sure the best people get in our elections to run, not as politicians, but as Americans.
"Because this," he said, pointing behind him to the Capitol dome, "this is not cutting it."
Some of the voices were very young. Yolanda Renee King, the 9-year-old granddaughter of the late Dr. Martin Luther King Jr., drew from the civil rights leader's most famous words in declaring from the stage: "I have a dream that enough is enough. That this should be a gun-free world. Period."