VUU's Linnette has game, but looks to call games, too
3/30/2018, 11:47 a.m.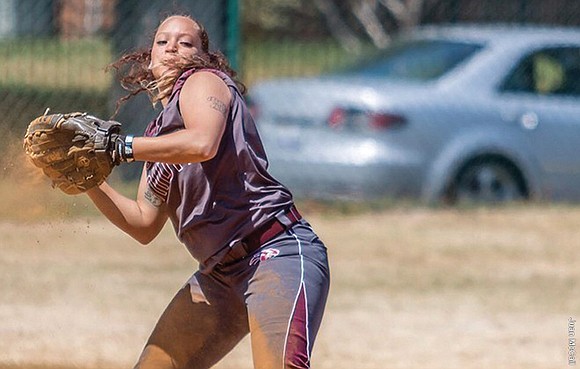 Shontel Linnette excels at any location on the softball diamond – pitching, catching, infield, outfield, and certainly in the right-handed batter's box.
And if there was another position called "broadcasting booth," the Virginia Union University senior would likely be All-CIAA material for that, too.
On the Lombardy Street campus, Linnette is a softball star and mass communications major, and not necessarily in that order as diploma time nears.
In just a few months, the right-hander known as "Tel" and "Telly" hopes to exchange her Easton bat and well-worn glove for a microphone.
"I prefer TV and hope to be a broadcaster for ESPN or CBS news," she said. "But if a radio opportunity comes along, I'll be glad to take it."
First things first, however.
For the time being, Linnette wears No. 14 (because she graduated from Norfolk's Booker T. Washington High in 2014) for Coach Sharika Joynes' Panthers.
You'd be hard-pressed to find a more eager and versatile athlete than the 5-foot-4 Linnette, who is listed on the roster as "pitcher/utility."
That's an understatement.
"Of all the girls I've coached starting in 2010, Shontel is the only one who can play all nine positions," said Coach Joynes.
"And she can play all nine on a 10 (meaning on scale of 1 to 10). In fact she's more like a 20."
There's ample evidence supporting that glowing claim.
Let's start with offense. Hitting cleanup (fourth), she was batting a resounding .571 through March 25 for the 6-5 Panthers.
You want power? Outfielders beware. Of her 16 hits, four have cleared the fences for four bases each. She also has 15 runs batted in.
The numbers may actually be higher. No individual statistics are available from VUU's 11-7 and 8-7 victories at Bluefield State to start the season.
As for pitching, it would seem her arm is made of flesh and bone and perhaps a bit of rubber, considering her durability.
On March 3, in Cary, N.C., Linnette threw three complete games in the same day (facing 91 batters) against West Virginia State, Bluefield State and Mount Olive.
"I iced my arm after each game. I was sore but it was OK," she said. "I used to pitch two or three games in the same day during travel ball."
Turns out she was just warming up. On March 17 at Elizabeth City State during the CIAA Roundup, Linnette whiffed 19 batters in 12 innings against Johnson C. Smith and Livingstone.
Mixing a 60-plus mile per hour heater with a change-up and what Coach Joynes calls a "crazy screwball," she has collected 47 strikeouts in 48 innings with a 4.34 earned run average. A screwball breaks opposite a normal curve — meaning it curls in on a right-handed hitter.
"Our catchers have had a problem of jamming their thumbs trying to catch it," said Coach Joynes.
Linnette's glove can go anywhere, but if she isn't pitching, she is likely behind the plate wearing catcher's gear when teammate Breana Miller toes the slab.
The versatile Panther inherited her softball spirit from parents Christina and Demetrius Linnette, who coached her throughout her youth career.
Later, her mom was coach at Booker T. Washington where Shontel earned All-Conference honors.
If Linnette isn't involved with softball at VUU, you might find her across Lombardy Street, auditioning, of sorts, at the Mass Comm Lab located in the L. Douglas Wilder Library.
It's one thing to play a great game. It's something else to call one. "Tel" plans on doing both.