Life likely to change for Bill Cosby after conviction
Reuters | 5/4/2018, 7:40 a.m.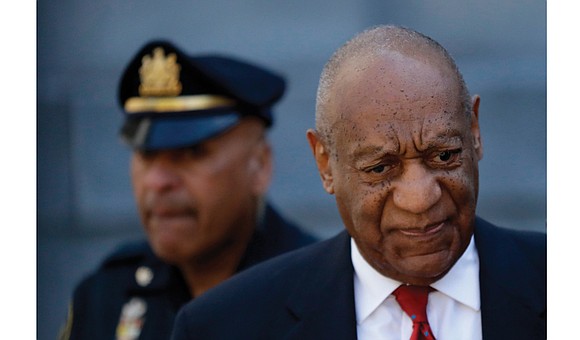 Bill Cosby, used to the high life as one of America's biggest stars, likely will see his entourage of aides replaced by an inmate paid pennies to help the legally blind comedian navigate life behind bars after he is sentenced for sexual assault.
Mr. Cosby, 80, faces up to 30 years in prison when he is sentenced in the next three months for drugging and raping Andrea Constand, 45, in 2004 at his sprawling compound outside Philadelphia. He is appealing the verdict, which could potentially delay his imprisonment for months or even years.
Should Mr. Cosby eventually leave the world of private jets and luxury hotel suites, the disgraced star of the 1980s television hit "The Cosby Show" will become probably the best-known celebrity to hear the gates of the Pennsylvania Department of Corrections shut behind him, according to a department spokeswoman, Susan McNaughton.
She said previous and current high-profile inmates have included legislators, ex-police officers and Jerry Sandusky, a former Pennsylvania State University football coach convicted in 2012 of being a serial child molester.
Another is Mumia Abu-Jamal, a political activist convicted in the 1981 murder of a Philadelphia police officer. Mr. Abu-Jamal's lawyers argued in court Monday that he should be granted a new trial because of bias of a state Supreme Court judge who heard his appeal.
Mr. Cosby's 2005 admission that he drugged women to have sex with them was the most compelling piece of evidence leading a Pennsylvania jury to finding him guilty April 26 of sexual assault, one of the jurors told ABC's "Good Morning America" on Monday.
That admission, which the actor made when he was facing a civil lawsuit, had also been a key piece of evidence for prosecutors in Mr. Cosby's first trial on the charges, which ended last year with that jury unable to reach a verdict.
"It was his deposition," Harrison Snyder, 22, told ABC. "Mr. Cosby admitted to giving these Quaaludes to women, young women, in order to have sex with them."
The seven-man, five-woman jury that included Mr. Snyder reached a unanimous decision after 12 hours of deliberations, about 10 months after the previous jury deadlocked in his first trial on the same charges, prompting the judge to declare a mistrial.
In the deposition from the 2005 civil lawsuit filed by Ms. Constand, Mr. Cosby described giving drugs, including the sedative Quaaludes, and alcohol to women before sex, hosting Ms. Constand at his home and a slew of other acts.
Prosecutors presented new witnesses at Mr. Cosby's latest trial that the judge had blocked in 2017, including five other women who accused him of drugging and assaulting them.
Mr. Snyder told ABC that he had been unfamiliar with Mr. Cosby and the #MeToo movement against sexual assault and harassment before the trial because he does not watch the news. He said he was not initially sure that Mr. Cosby was guilty. He was convinced after hearing the evidence.
"If you were there, you would say the same thing. You would say that he's guilty," Mr. Snyder said. "I have no doubt at all."