Bill Cosby, TV's favorite dad, goes on trial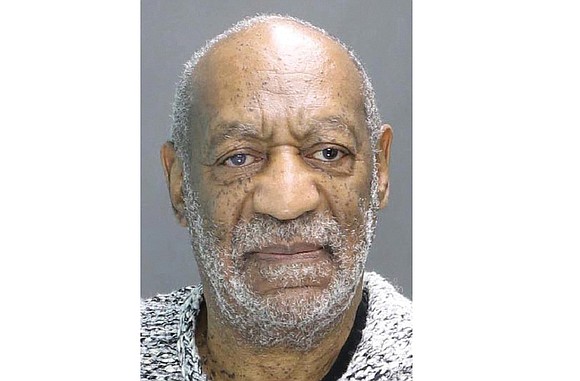 NORRISTOWN, PA
Andrea Constand told a packed Pennsylvania courtroom on Tuesday that she could feel Bill Cosby's hands on her body, but the drugs in her system would not let her stop him.
"In my head, I was trying to get my hands to move, my legs to move, but I was frozen," she testified at the legendary entertainer's sexual assault trial. "I wanted it to stop."
Mr. Cosby, sitting across the courtroom, shook his head as Ms. Constand described an encounter at his Philadelphia area home in 2004, after she accepted three blue pills that he promised would help her "relax."
Ms. Constand, 44, is among more than 50 women who have accused Mr. Cosby of sexual assaults dating to the 1960s, often after plying them with drugs. The 13-year-old incident is the only one that is recent enough to support criminal charges.
Mr. Cosby, 79, best known for playing a revered father figure in the 1980s television hit family comedy series "The Cosby Show," has denied all of the allegations. He faces up to 10 years in prison if convicted.
The outcome of his trial in the Philadelphia suburb of Norristown, Pa., largely hinges on whether jurors believe Ms. Constand's testimony, which came on the trial's second day.
Defense lawyers began grilling Ms. Constand on the stand late Tuesday about several discrepancies in her initial account to police in 2005. Their questioning was to continue on Wednesday.
Ms. Constand said she first met Mr. Cosby in late 2002, when she was the newly hired director of basketball operations for Temple University's women's basketball program and he was a university trustee and the Philadelphia school's most famous alumnus.
After a series of phone calls, Ms. Constand, who was then in her 30s, said the married Mr. Cosby began inviting her to dinner at his house and other events.
"He was a Temple friend, somebody I trusted, a mentor and somewhat of an older figure to me," Ms. Constand testified.
On at least one occasion, Ms. Constand said she rebuffed his advances, telling him she had no interest.
In January 2004, Ms. Constand said, Mr. Cosby invited her to his house again to discuss her career options. That night, he offered her the three blue pills, saying they were her "friends."
When she asked if they were herbal, he nodded, she told jurors.
Ms. Constand said she told Mr. Cosby she trusted him and swallowed the pills.
After the incident, Ms. Constand acknowledged under questioning from both sides that she maintained contact with Mr. Cosby but said she felt obligated to do so because of her job.
The defense has suggested that her repeated calls to him show the encounter was consensual.
The trial's first witness was Kelly Johnson, who worked for one of Mr. Cosby's agents at the William Morris Agency. Ms. Johnson, of Atlanta, described an encounter she said took place in 1996 at the Hotel Bel-Air when she was in her mid-30s.
Prosecutors are trying to show Mr. Cosby's treatment of Ms. Constand fit a pattern of predatory behavior. They had wanted to call as many as 13 women who say Mr. Cosby sexually assaulted them, but Judge Steven O'Neill, in a victory for Mr. Cosby, said the jury could hear only from Ms. Constand and Ms. Johnson.
Ms. Johnson testified that Mr. Cosby pressured her to take a large white pill that knocked her out, and when she woke up, he put lotion on her hand and forced her to touch his genitals.
"My dress was pulled up from the bottom, and it was pulled down from the top, and my breasts were out," she said, crying. "And I felt naked."
Mr. Cosby's lawyer argued that Ms. Johnson was seeking a payout from the TV star, whose 50-year career in TV shows, movies and comedy tours earned him an estimated $400 million.
Mr. Cosby arrived at the courthouse Monday holding his spokesman's arm for support as he walked past dozens of cameras. His wife, Camille, was not in court. Actress Keshia Knight Pulliam, who played his daughter, Rudy, on "The Cosby Show," was at his side as he made his way into the building. She told reporters she was there to support her TV dad.
"I want to be the person that I would like to have if the tables were turned," she said. "Right now, it's the jury's job and the jury's decision to determine guilt or innocence. It's not mine or anyone else's."