'America's Dad' Bill Cosby now inmate No. NN7687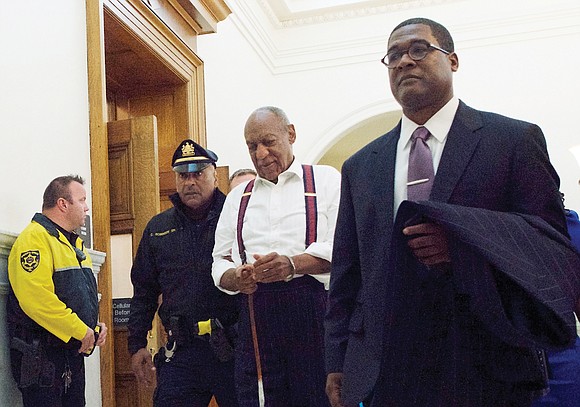 NORRISTOWN, Pa.
"America's Dad" Bill Cosby was marched out of court in shackles Tuesday after a judge branded him a "sexually violent predator" and sentenced him to between three and 10 years in prison for sexual assault.
Mr. Cosby, 81, was found guilty in April of three counts of aggravated indecent assault for drugging and sexually assaulting his one-time friend Andrea Constand, a former Temple University administrator, at his Philadelphia home in 2004.
The comedian and television star once revered for his role playing the wise, caring and affable Dr. Cliff Huxtable on "The Cosby Show" is now known as inmate No. NN7687 in the Pennsylvania penal system.
Mr. Cosby is one of the first celebrities to be convicted of sexual abuse since the start of the #MeToo movement, the national reckoning with misconduct that has brought down dozens of powerful men in entertainment, politics and other fields.
He must spend at least three years in a Pennsylvania prison before he becomes eligible for supervised release, though he could end up behind bars for up to a decade.
Already his legal team is readying a long-shot bid to get his conviction overturned. They're also fighting civil lawsuits filed by some accusers that threaten to drain his vast fortune.
His wife, Camille, has been lashing out at Montgomery County Court of Common Pleas Judge Steven O'Neill and accusing prosecutors of using illegal evidence.
Just before Mr. Cosby was taken away in handcuffs on Tuesday, his lawyers alleged that prosecutors had played a doctored audiotape for the jury. They argued that the development was enough to keep Mr. Cosby out on bail while he appeals, but Judge O'Neill refused. He ordered Mr. Cosby to be jailed immediately.
Mr. Cosby then was escorted out a back door of the courthouse with his hands and feet shackled and driven away in a black sport utility vehicle.
Minutes earlier, Ms. Constand left the court with her arms folded, a smile spreading across her face, as other women who have accused Mr. Cosby of similar crimes came to hug her. Several of those women spoke to reporters in the rain outside the courtroom.
"I wanted 30 years, but I'm very happy to know Mr. Cosby will do time in prison," said Chelan Lasha, who gave tearful testimony in court about the time she says Mr. Cosby drugged and groped her in the 1980s.
Judge O'Neill also fined Mr. Cosby $25,000 and ordered him to pay the costs of the prosecution. There was no visible reaction from the disgraced entertainer as he learned his fate.
"Equal justice under the law does not allow different treatment because of who he is or who he was," Judge O'Neill said.
"He hid behind Dr. Cliff Huxtable," Kevin Steele, the county district attorney who led the prosecution, told reporters afterward. "Before he was taken away in handcuffs, a lot of people believed this was who he was. We know otherwise."
After the sentencing, Andrew Wyatt, Mr. Cosby's spokesman, read a lengthy statement in which he decried what he called "the most racist and sexist trial in the history of the United States."
Judge O'Neill also designated Mr. Cosby a "sexually violent predator" under Pennsylvania law. Under that designation, he will have to undergo monthly counseling and register as a sex offender with police for the rest of his life. Neighbors and schools will be notified of his address, certain movements and crimes, as will Ms. Constand.
When prosecutors told Mr. Cosby in court he would not have to inform Ms. Constand of his movements himself but that a proxy would do so, he replied, "Good!"
Mr. Cosby has denied any wrongdoing. Asked if he wanted to address the court with a statement before sentencing, Mr. Cosby declined through his lawyers. His lawyers had asked that he be placed under house arrest, citing his age and frailty.
More than 50 women have accused Mr. Cosby of sexual abuse going back decades, with most complaints too old to prosecute. The Constand case was the only allegation that led to criminal charges.
Ms. Constand said in a written statement submitted to the court on Monday that the attack had turned her into a woman who was "stuck in a holding pattern for most of her adult life, unable to heal fully or to move forward."
"Bill Cosby took my beautiful, healthy young spirit and crushed it," she wrote.
Mr. Cosby's first trial in 2017 ended in a mistrial when jurors could not reach a unanimous verdict.
He spent his first night as a prisoner in a single cell near the infirmary at a new state lockup, a mere 20 miles from the suburban Philadelphia mansion where, a jury found, he sexually assaulted Ms. Constand.
Prison officials will process Mr. Cosby at the nearby state prison in Schwenksville before determining in which of Pennsylvania's 22 male prisons he will serve his sentence, prison spokeswoman Amy Worden wrote in an email.
He will be one of 86 inmates over age 80 held by Pennsylvania's Department of Corrections, where the two oldest inmates are both 91, Ms. Worden said.
Mr. Cosby also is defending defamation lawsuits filed by at least 10 accusers in Massachusetts and California, which were mostly put on hold during the criminal case. The women say that Mr. Cosby and his agents deemed them liars by denying their sexual assault accusations.
Mr. Cosby has countersued seven women in the Massachusetts case, alleging they engaged in a campaign to "assassinate" his "honorable legacy and reputation."
"He says his reputation was harmed," the women's lawyer, Joseph Cammarata, said. "I'm going to say he had no reputation to harm."
Mr. Cammarata will ask a judge next month to schedule a trial date and let him take Mr. Cosby's deposition. Mr. Cosby's lawyers deposed the women and Mr. Cammarata deposed Camille Cosby, but Mr. Cosby himself got a reprieve while the criminal case loomed.
"At least we know where to find him," Mr. Cammarata said.