Bill Cosby's case ends in mistrial, but civil suits waiting
6/24/2017, 11:03 a.m.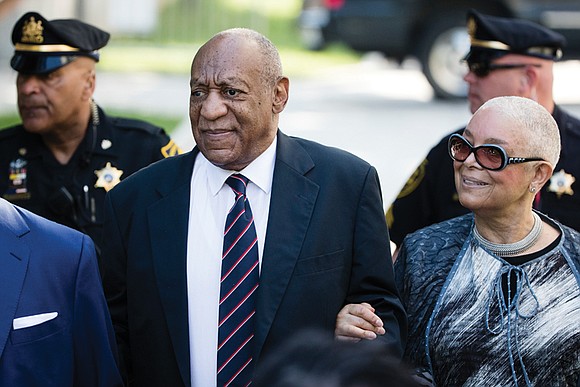 Entertainer Bill Cosby's sexual assault trial ended in a mistrial last Saturday, but his legal problems persist as he faces assault and defamation claims in civil lawsuits, where the bar for evidence is lower than in criminal cases.
At least 10 women have pending civil claims against Mr. Cosby in lawsuits filed in California and Massachusetts.
Two have brought claims against the 79-year-old entertainer for sexual assault. Others, barred from doing so because their claims were too old, have brought defamation claims against him, saying he smeared their reputations by publicly denying their accusations.
In civil lawsuits, plaintiffs need only show that the weight of evidence is on their side, meaning they have information to tip the scales above 50 percent in their favor, as opposed to criminal cases in which prosecutors must prove claims beyond a reasonable doubt.
The judge in the criminal case against Mr. Cosby in Pennsylvania declared a mistrial on Saturday after jurors said they were deadlocked and unable to reach a unanimous verdict on charges that Mr. Cosby sexually assaulted Andrea Constand in 2004. At the time, Ms. Constand worked at Mr. Cosby's alma mater, Temple University.
David Harris, a professor at the University of Pittsburgh School of Law who specializes in criminal justice, said the hung jury did not mean that a civil jury would clear Mr. Cosby of liability.
"There may not be enough evidence for a criminal conviction, but that does not rule out a civil verdict," said Mr. Harris.
Approximately 60 accusations of sexual assault have been made against Mr. Cosby over a number of years, but only Ms. Constand's resulted in criminal charges because the other alleged incidents were too old to prosecute. Mr. Cosby has denied all of the accusations.
Ms. Constand also sued Mr. Cosby in 2005 and settled for an undisclosed sum.
Women bringing civil cases would also likely find it easier to introduce testimony from other accusers to support claims that Mr. Cosby engaged in a pattern of assault, said Douglas Wigdor, a plaintiffs' attorney who represents clients in sexual harassment cases.
Little testimony about other accusations against Mr. Cosby was allowed in the Pennsylvania trial because of the strict standards for admitting evidence in criminal cases.
Prosecutors had sought to have 13 other accusers testify in Ms. Constand's case, but the judge allowed only one, finding that more would unfairly prejudice the jury.
Paul Callan, who represented the estate of Nicole Brown Simpson in a civil case against her ex-husband, former football star O.J. Simpson, after he was found not guilty of her murder, said courts are much stricter in excluding evidence in criminal cases because a conviction could lead to incarceration.
"In civil cases, the battle is over money damages, as opposed to sending someone to prison," Mr. Callan said. "In my experience, the courts tend to be far more liberal in allowing both sides to introduce a greater volume of evidence than the stricter rules in criminal cases."
While Mr. Simpson was acquitted in the 1995 criminal case, a jury in the civil case ordered him to pay $25 million in punitive damages to the families of Nicole Brown Simpson and Ronald L. Goldman, who were together when they were killed. The jury also awarded $8.5 million in compensatory damages to Mr. Goldman's family.
In the aggregate, Mr. Callan said, Mr. Cosby could face paying out a comparable amount because of the number of alleged victims.