Personality: Joseph P. Costello
Spotlight on founder of the nonprofit Friends of Pump House
5/11/2018, 8:17 p.m.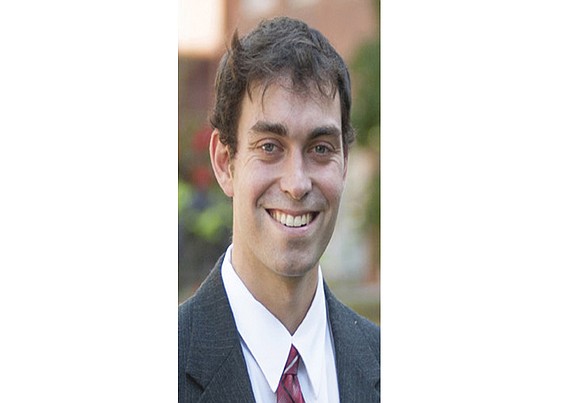 Prospects for achieving vision for building's future: We have raised more than $30,000 in nine months. We have integrated ourselves into the existing nonprofit's framework and we have Councilman Parker C. Agelasto's and the local community's support. Many local businesses have thrown fundraisers for us and have given us their support. I would say as long as we have the community and the city's support, we have a real chance. But many barriers still exist that should not be underestimated.
How I see Pump House in five years: I see the building open to the public. Events are held such as concerts, paint parties, historic tours, field trips from local schools, weddings, theater and many other uses — whatever the diverse and artsy community of Richmond wants. It is a public park and a public works building after all.
Number of people aware of Pump House: Fewer than there should be. Some people have grown up in Richmond and have never heard of it. Increasing that is a major goal of our group.
How I recruited people to help: Through the planning process required for my professional plan with the City of Richmond and VCU, I established many stakeholders and interested people. From there, people who came out and wanted to help were encouraged to help in any capacity they felt they could. The building needs everything, so if you have a skill, we can use it!
How to become a volunteer: Reach out on our website, www.friendsofpumphouse.org. We have a get involved submission form online, or simply show up to one of our board meetings or public cleanup days.
How I start the day: I like to walk my dog Charlie, drink a cup of coffee and start in on everything. Productivity comes from attacking. I try and be tenacious and carry that mindset into everything I do. But first coffee and dog walk, or else I'll go insane.
Perfect day for me is: Waking up in a new place and getting to decide what to do with my day and having no plans. Maybe it's somewhere in Spain or a small town in West Virginia. That could be hiking or trying a new coffee shop or playing my tuba in a new park or just watching the clouds pass. Life is so busy. Time to reflect, spend time with loved ones, explore and do what feels right is so hard sometimes. You have to fight to get that freedom.
If I had more time, I would: Play my tuba a lot more.
A quote that I am inspired by: "Change is the law of life. And those who look only to the past or present are certain to miss the future." – John F. Kennedy
Best late-night snack: Pizza.
Outlook at start of day: Time to get up and go! But boy, I could use a few more hours of sleep.
Best thing my parents ever taught me: You are responsible for who you want to be. I got a "C" in my first quarter of high school as a freshman. I was only allowed to get As and Bs and my sisters were straight-A students. My parents were always really disappointed in me when I messed up and grounded me. But I'll never forget that C because my mom simply shrugged her shoulders and said, "You already know what I'm going to say — 'You can do better' — but you know that. You want to be a C student, that's fine. You're old enough to make your own decisions. You choose who you are and what you accomplish. If you work at it, that can be whatever you want it to be." From that point on, I tried hard at everything I did.
Person who influenced me the most: My dad, Joe Costello.
The book that influenced me the most: "The Picture of Dorian Gray" by Oscar Wilde.
What I'm reading now: "Falls of the Rappahannock" by Dr. William "Bill" Trout.
The one thing that I've learned in life is: Enjoy it.
My next goal: Restore my basement into a stellar man cave, complete with pool table.