Personality: Paula R. Gray
Spotlight on first Ms. Exquisite Full-Figured Virginia 2018
11/29/2018, 6 a.m.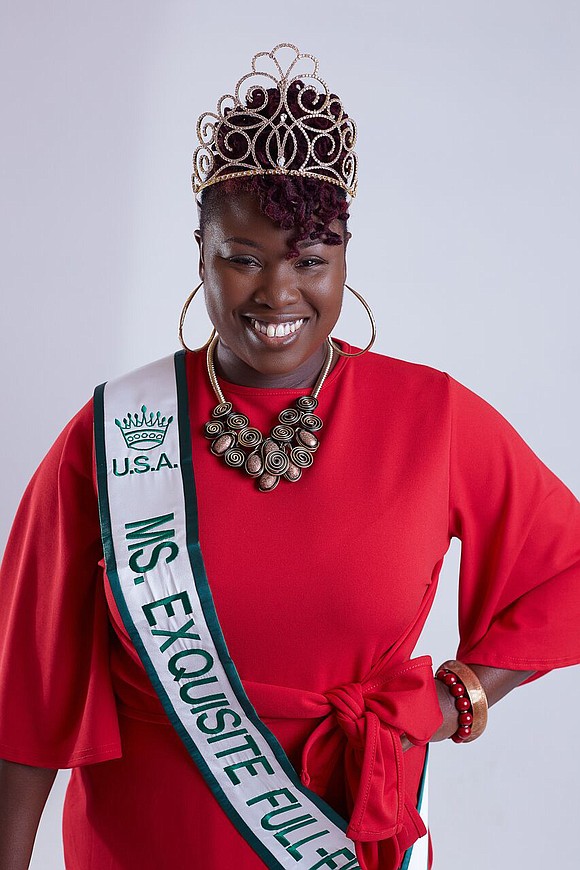 She has written three books for young women designed to empower them with the knowledge that God guides them throughout life's journey. All three — "Girl, Count Your Blessings: Devotions Celebrating God Already Working in Your Life;" "For Windy Days: Poems to Anchor Girls in God's Love, Hope and Strength;" and "B.R.A.G. Journal: Biggest Reveal About God" — are meant to instill hope in today's youths, she says.
As for the upcoming national competition, Ms. Gray says, "I am more focused now. I'm going for it. There is a real chance I will win and I am going to put my best foot forward."
Her message to women and young girls is straightforward: "You are not designed by God to be average. Get out of your comfort zone. Try something new and expect to be amazed. Listen to life. There is so much to experience. Live and have fun."
Meet pageant winner, women's inspirational advocate and this week's Personality, Paula R. Gray:
Occupation: Office administrator managing the daily operations at my church, Anointed New Life Baptist Church in Henrico County.
Latest accomplishment: Winner of Ms. Exquisite Full-Figured Virginia 2018.
Date and place of birth: June 3, in Queens, N.Y.
Current residence: Chesterfield County.
Education: Bachelor's degree, Ashford University; master's of divinity, Samuel DeWitt Proctor School of Theology at Virginia Union University.
Family: Husband, Eric, and daughters, Melanie, 12, and Yolanda, 10.
First reaction to selection as Ms. Exquisite Full-Figured Virginia 2018: My mouth dropped open. I was in such awe.
What this means to me: It means so much to me. It means representing a positive body image in this day and age; inspiring other women and young ladies; and getting the word out about suicide prevention for our youths.
Reaction of family: My family was so proud. All those miles on the car from Chesterfield to Norfolk over the last couple of months quickly slipped from my husband's memory.
My pageant platform: Teen suicide prevention.
Strategy for winning: Stayed true to myself — quiet demeanor and all.
What title requires: To complete at least 40 hours of community service, promote the Ms. Full-Figured Virginia Pageant; to compete in the Ms. Full-Figured USA competition; promote healthy body image and inner beauty; and promote my platform in the community.
View of pageants: Pageants are creative ways to bring women together from all different backgrounds who use their resources and experiences to support one another and to make an impact in their community.
How and when I got interested in them: I never thought about entering one until my sister encouraged me to interview for Ms. Full-Figured Virginia this year. She knew I had a platform but needed an avenue to share it. I never knew I would have actually participated in one, let alone win one.
Pageant winner I admire most and why: I would say Capricia "Capri" Butler, Ms. Virginia Plus America 2016. She always checked on me and gave me great advice during the pageant process. I'll never forget her asking me, "Are you able to deal with winning nothing?" I replied yes. Her answer: "That's great. We all want to win but if we are not prepared to lose, we shouldn't win."
How I start the day: Thanking God. Morning meditation is a must for me.
A perfect day for me is: Anytime I can get in back-to-back Hallmark movies, eat a slice of coconut cake and hear the laughter of my husband and two daughters — in the next room.
Something I love to do that most people would never imagine: I love boxing or kick-boxing.
How I unwind: Watching a comedy and laughing really hard.
A quote that I am inspired by: The loudest person in the room is not necessarily the strongest person.
Best late-night snack: A forkful of cake.
Best thing my parents ever taught me: Through my parents' actions, I learned how to be resilient. There is no situation I cannot bounce back from.
Person who influenced me the most: My pastor, Rev. Dr. C. Diane Mosby. She is a woman with bold faith.
The book that influenced me the most: "Battlefield of the Mind" by Joyce Meyer.
What I'm reading now: "The Last Black Unicorn" by Tiffany Haddish.
The one thing that I've learned in life is: Nobody was created to be average.
My next goal: To release my novel, "Beyond This Season."