Lost cause
Richmond City Council rejects resolution requesting General Assembly approval for authority over city's Confederate monuments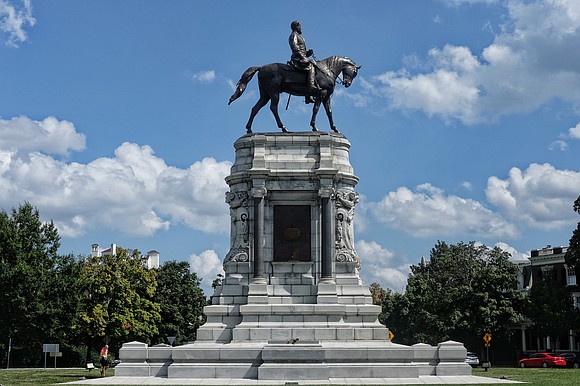 The racist Confederate past has maintained its stranglehold on Richmond's future.
In a 6-3 vote, Richmond City Council rejected the idea of asking the General Assembly for authority to decide the fate of the symbols of white supremacy and racial hatred on public property in the city, most notably on Monument Avenue, where the five most prominent statutes to the traitorous Confederate cause have stood for a century or more.
The council vote sent a jolting message that the former Confederate capital is not ready to join other metropolitan cities, such as Baltimore, Memphis and New Orleans, in getting rid of the in-your-face symbols of slavery that continue to haunt the present.

For Councilman Michael J. Jones, 9th District, the vote was another stinging defeat just 10 months after council voted 6-2 to shoot down his more robust effort to put the nine-member governing body on record on removing the statues.
Dr. Jones hoped to have an easier time winning votes for his milder resolution, which amounted to a plea to the legislature to allow Richmond to decide what to do with memorials and statues within its borders.
A state law currently blocks the city from altering or removing them.
"I'm baffled by the notion of us not being willing to address matters like this and shirk our responsibilities," said Dr. Jones, a full-time minister.
Ultimately, his resolution won the support of only two other council members — 6th District Councilwoman Ellen F. Robertson and 7th District Councilwoman Cynthia I. Newbille, who also serves as council vice president.
"We can only move this city forward by having the right to decide," Dr. Jones told his colleagues. "We cannot be afraid to tackle the tough decisions of our day because they will go nowhere. We must decide if we're going to be one Richmond or remain divided."
After the vote, Dr. Jones called it "most disheartening" that none of the five white council members supported him on an issue important to people of color.
Mayor Levar M. Stoney, who earlier came to the meeting to champion a resolution calling on the state legislature to fully fund the cost of public education for Richmond and other localities, later scolded the council for rejecting the Jones resolution.
"The culture of 'can't' was on full display at #rvacouncil!" the mayor tweeted.
Through his social media message, Mayor Stoney also expressed dismay that several council members refused to support the resolution on the grounds it could interfere with the Richmond campaign to secure more state funding for education.

"We can support choosing our own destiny about the future of confederate monuments in our city AND advocate for the state to fund the true cost of public education. This was not a either/or proposition.#Excuses," he stated on Twitter.
Before the vote, School Superintendent Jason Kamras also sent a message urging the council not to use the excuse of "RPS funding as a reason to not support monument proposal… If we don't stand up for what's right, what are we telling kids about our values? …Nothing's been stopping you from introducing paper before tonight to increase $ 4 RPS…"