Edward Curtis pushes through grief to deliver for Armstrong
Fred Jeter | 10/18/2018, 6 a.m.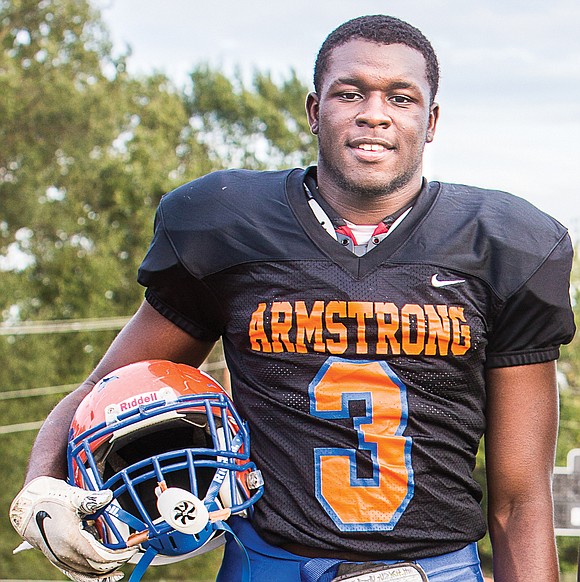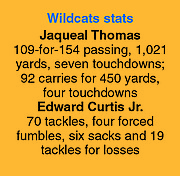 Armstrong High School's Edward Curtis Jr. plays his rugged brand of football with more than just flesh and bone.
The senior is also fueled by a brimming tank of emotion.
Curtis, who lines up at wide receiver and linebacker for the Armstrong Wildcats, saw his father, Edward Curtis Sr., die of a heart attack last spring at age 40. The tragedy was absent any advance warning.
Father and son were working out together for an upcoming football exposure camp when catastrophe struck.
"March 21, 4:41 p.m.," Curtis recounted of his father's death.
They couldn't have been closer. 
"My father taught me everything I know," Curtis said.
The elder Curtis started his son in football in Utica, N.Y., before the family moved to Central Virginia. They were so alike, they even shared the same nickname, "Doolie." Curtis said it means "Father's Child."
Curtis lives with his mother, Chiquita Curtis in Richmond's East End but sometimes stays with Armstrong Coach Ken Painter.
"I talk to Doolie's mother two or three times a week," Coach Painter said. "We're like family."
Mr. Curtis won't be forgotten. Every tackle Curtis makes, he does in his father's honor. The same goes for all his crunching blocks and sure-handed pass receptions.
Mr. Curtis would have been extremely proud of his powerfully built, 6-foot, 210-pound son during Armstrong's Oct. 5 upset victory over Hanover County's Lee-Davis High School. After trailing by as many as 14 points, the previously winless Wildcats rallied for a 34-29 victory.
Clinching the victory was a late-game touchdown pass to Curtis by quarterback Jacqueal Thomas. On a fade pattern, Curtis made the grab, in traffic, in the back of the end zone, just inside the pylon, setting off a long overdue East End celebration.
"Doolie's got a strong grip. He wasn't letting it go," Coach Painter said.
The dramatic touchdown was the gleaming pinnacle of the Wildcats' season.
Thomas and Curtis have shared the spotlight — albeit an elusive one — for the often under-manned Wildcats. Armstrong is a Division 3 school, based on enrollment, facing a difficult schedule of Division 4 and Division 5 suburban opponents.
Lee-Davis is in Division 5.
Next up for the Wildcats is a trip to western Hanover County on Friday, Oct. 19, to meet Patrick Henry High School, another Division 5 opponent.       
Curtis has gone from one extreme to the other in terms of team status. He began his career at three-time State 5A champion Highland Springs High School in Henrico County. Along with his parents, he made the decision to move into Richmond and play for Armstrong, a perennial underdog. The move was made last spring, prior to his father's death.
"Not too many kids want to transfer into Armstrong," said Coach Painter, noting he had seen several of his own frontline players transfer elsewhere.
"We really welcomed him. He's our big fish. And he's the one most colleges are talking about."
Curtis echoes that feeling.
"We (Curtis' family) thought it would be better to be a bigger fish in a smaller pond," Curtis explained. "At Highland Springs, I was only going one way there. I was hoping for more exposure."
The strategy has worked. Curtis has received interest from numerous CIAA and MEAC schools and said he is leaning toward Norfolk State University.
In the meantime, he vows "to finish this season strong" and help propel Armstrong into the playoffs.
As much as he cares about being a Wildcat, he'll never forget his father's strong influence.
Coach Painter explains.
"On the bus rides, Doolie usually sits by himself and reflects. And you'll see him tear up. I say, 'Go ahead, let the tears flow.'
"But once the game begins, he gives us 100 percent."